A kid sends his neighbor the most adorable wedding invitation for his cats
An eight year old boy named Brady has sent his neighbor the most adorable wedding invitation we've ever seen.
Check it out below!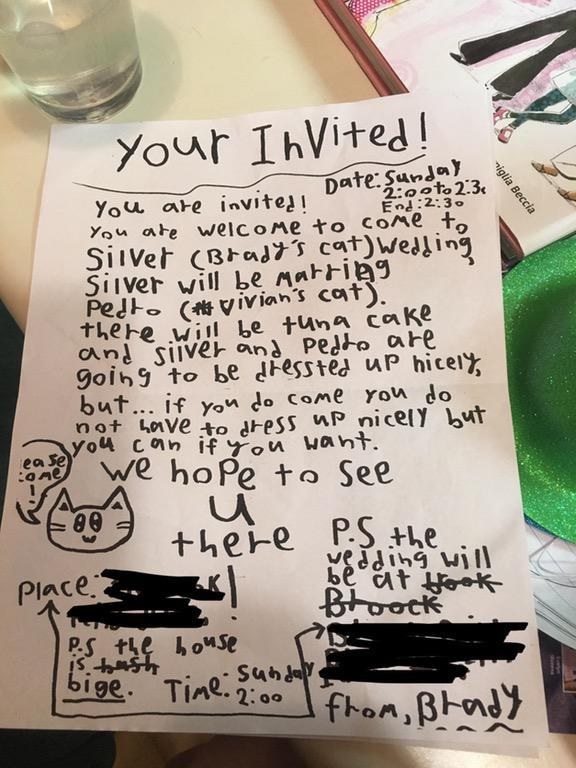 reddit/carlsfried

We've translated here:
"You are invited!
You are welcome to come to Silver's (Brady's cat) wedding. Silver will be marrying Pedro (Vivian's cat).
There will be tuna cake and Silver and Pedro are going to be dressed up nicely, but… if you do come you do not have to dress up nicely but you can if you want.
We hope to see you there!"
Naturally, the internet can't get enough of this kitty wedding, and the people of Reddit are begging for this neighbor to attend.
"Will post updates. Will dress fancy," the neighbor confirmed.
"I hope you can find where the couple is registered" one user commented.
"Petco, Pet Land and Bed, Bath and Beyond. They really need a new can opener," the neighbor hilariously answered.
The wedding is also from 2:00 to 2:30 on Sunday, with extra emphasis that the wedding is OVER at 2:30. Brady gets it. Cats are busy creatures and we've heard through the grapevine that their honeymoon will take place by the nicest window in Brady's house. The one that gets the most sun.
Ah, to be young and in love.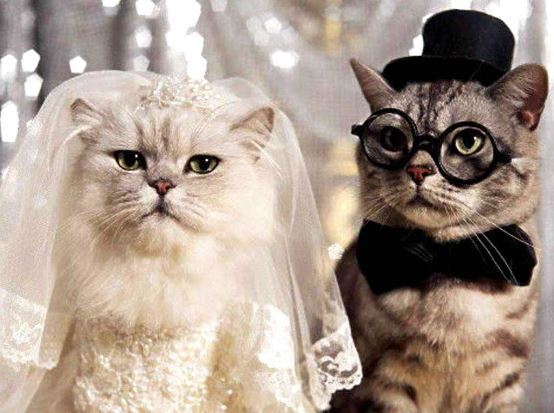 We'll share updates of the wedding once we get them!
Share the cute!
Related Stories:
Cat is so excited that her parents are getting married! (Gallery)
When she met her future husband, he told her he wasn't really into cats... but boy was he wrong (Gallery)
Shelter kitten helps man propose with the most adorable collar
Man gets the best moral and bow-tie support from his cat before he proposed to his girlfriend
Canadian couple gets married in front of 1,100 guests... and they were all cats! (Gallery)
LIKE US!
Comments
comments powered by

Disqus
LIKE US ON FACEBOOK!