Dear diary: I want to be as feared as that freaky killer clown
An online diary post from our kitty CEO:
Dear diary,
So, there has been a lot of buzz about some killer clown on the internet today. Apparently, a movie is being made about said clown, who humans refer to as IT, and everybody is freaking out.
Being a murdering psychopath myself, aka like all cats everywhere, I figured I needed to check it out.
Now, from what my human has told me, this movie is based off the popular book written by Stephen King. There's this clown, some super awesome monstrous alien shapeshifting killer, that morphs into children's deepest fears and scares the living poo out of them… before eating them.
My human is obsessed with that book and very excited about this movie. He watched the trailer and shouted with gleeful terror.
You can see the trailer for yourself below.
I gotta admit, I admire this clown. As a creature who equally enjoys murdering stuffs, this clown really has upped the insanity.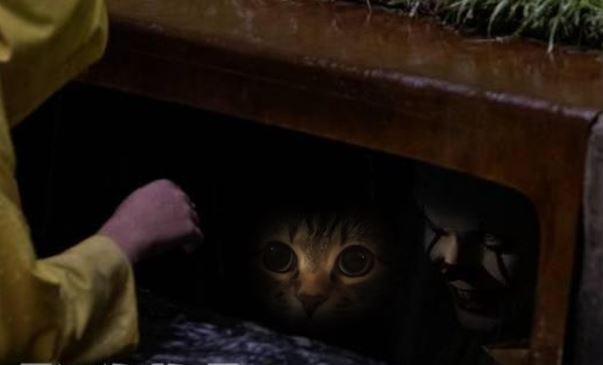 But you see, this clown only goes after children. He's leaving a lot off the table. Now, if I could have those powers… oh my Mufasa.
My human has a little niece that sometimes comes over, and she gets a little… grabby. Boy, would I like to morph into her deepest fear, which I believe is vegetables, and send her running to never grab my tail again…
I'd transform into the vet to get the stoopy dog to stop licking my face with his disgusting tongue.
And those birdies and squirrels… oh they would float alright… float forever in my deep dark mind… never again shall they mock me from beyond the window… dancing around in their trees like stoopy little fairies.
… I've got the itch to kill… but all I see are some stoopy plotted plants…. sigh… I mean, of course I'm going to murder them, but I really want to hear something SCREAM.
OH!
I know… my human's got an old clown costume somewhere. Maybe when he's sleeping tonight… I'll slip on that orange hair… and growl by the end of the bed… maybe swipe at his toes…
Beep Beep, human. Beep Beep.
-iizcat
P.S.
If you want to see a REALLY scary movie... just watch below at your own risk...
Related Stories:
Dear diary: the human is upset because I tried to eat him
Dear diary: I need to time travel back to Ancient Egypt so I can be worshiped properly
LIKE US!
Comments
comments powered by

Disqus
LIKE US ON FACEBOOK!