Why Crookshanks the cat is totally underrated in the Harry Potter series
We're big fans of the Harry Potter series (who isn't?) and we were thinking about a certain kitty that's totally underrated in the books and movies.
We of course are talking about Crookshanks.
Crookshanks was Hermione Granger's pet cat. He is half-Kneazle as evidenced by his lion-like appearance, ability to solve problems on his own without aid or teaching, and clear dislike of and ability at recognizing untrustworthy persons (even if they are transfigured). Crookshanks was also very playful and enjoyed catching spiders, chasing gnomes in the Weasleys' garden, and attacking chess pieces.
In the Prisoner of Azkaban, Hermione purchased Crookshanks from the Magical Menagerie in 1993, when the witch told Hermione that the cat had been in the shop for a long time, as nobody wanted him.
Hermione, one of the cleverest witches we've ever read about, chose Crookshanks, but one could argue, as many do about cats in the real world, that he in fact chose her.
Besides being a wonderful companion to Hermione, a noble job in its own right, Crookshanks saved the day and lives of Harry and company.
Let's dive in, shall we?
Related Story: Here's what the Hogwarts houses would be if they were founded by cats
First off, Crookshanks was the ONLY one who saw through Scabbers, Ron's beloved pet rat, for what he really was, the treacherous coward Peter Pettigrew in his Animagus form. He went after Scabbers and constantly attacked him throughout the book, keeping the rat on the run and away from Harry and company. Pettigrew of course was a loyal servant to He Who Shall Not Be... no... we can say it... VOLDEMORT. (Even the marauder's map couldn't detect Scabbers… apparently.)
Crookshanks deserves a medal for that alone.
Crookshanks also correctly trusted Sirius Black when no one else in the wizarding world did, aside from maybe Dumbledore. He met Sirius on the Hogwarts grounds when he was in his shaggy dog Animagus form and stole the passcodes into Hogwarts Gryffindor tower for Sirius to go after Scabbers himself.
Crookshanks then helped Sirius lure Harry, Ron, and Hermione into the Shrieking Shack, by bypassing the Womping Willow tree. During the scuffle between Harry and Sirius, Crookshanks set himself over Sirius' heart, shielding him from Harry's strike. The hesitation that Harry felt gave enough time for Professor Remus Lupin to arrive, thus saving Sirius's life and keeping hate (and later depression for possibly killing Sirius) out of his heart.
The saving of Sirius at that moment would lead to the new Order of the Pheonix, his home headquarters used throughout the rest of the books, and Sirius's defending of Harry in the Ministry of Magic before being killed.
Crookshanks would go on to befriend Harry, Ginny, and even Ron, who after hating on Crookshanks the entire time for trying to protect him from Scabbers (given Ron had no idea what Scabbers really was), finally accepted Crookshanks as a remarkable animal companion. He even asked for Crookshanks' opinion on the owl that Sirius gave him, Pigwidgeon, to make sure the owl was indeed an owl and not an Animagus. Crookshanks gave him that piece of mind. Pigwidgeon would go on to help deliver important notes and even food to Sirius when he was in hiding.
Further, in the film adaptation of The Order of the Pheonix, Crookshanks interfered with one of Fred and George Weasley's Extendable Ears, which the twins, Hermione, Harry Potter, and Ron and Ginny Weasley used to listen in on an Order of the Phoenix meeting in 12 Grimmauld Place. One could argue by doing so, this kept secret information safe from the group, and especially Harry, who would later find out that he and Voldemort could peer into one another's mind.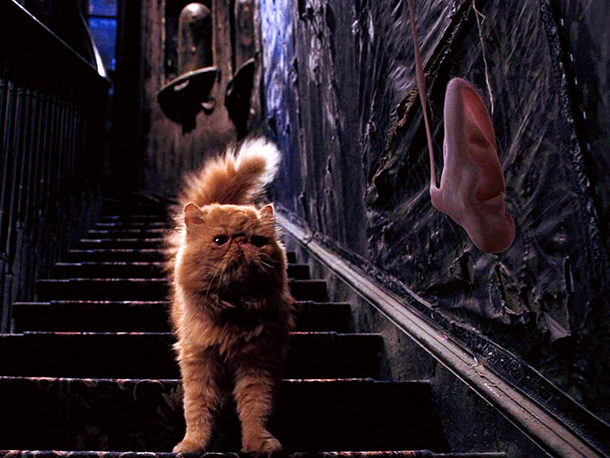 So, in conclusion, without Crookshanks:
Scabbers most likely would not have been exposed, Sirius would have never been able to contact Harry and help in the war against Voldemort, Voldemort would have had an easier attempt on Harry's life if Scabbers never left Ron's side, and darkness would fall and the wizarding world would have never been the same!
Maybe we're being dramatic… but seriously, Crookshanks deserves some treats.
Not much is known about Crookshanks fate after Hermione leaves with Harry to destroy the Horcruxes. But many believe Ginny took care of him while Hermione was away, and ultimately, after Voldemort's defeat, Hermione and Crookshanks reunited.
"He's the most intelligent of his kind I've ever met."
—Sirius Black regarding Crookshanks
Related Stories:
Here's what the Hogwarts houses would be if they were founded by cats
LIKE US!
Comments
comments powered by

Disqus
LIKE US ON FACEBOOK!