A cat is an artist's best friend – new Smithsonian exhibit claims
Much like cats, artists are misunderstood. There's a reason why artists and cats get along so well!
Archives of American Art curator Mary Savig considered doing a show about man's best friend, but she decided to go with man's best frenemy: cats.
"I just think dogs are too sweet for an exhibition. They are too cute; they are too loyal. Cats are a little more independent and they speak to the way a lot of artists work," says Savig, curator of "Before Internet Cats: Feline Finds From the Archives of American Art," which opens Friday.
It's no accident that many artists work with cats by their side, Savig adds.
"Cats are excellent studio companions," she says. "Sometimes they provide a playful distraction, sometimes they can serve as an artist's muse, and they almost never criticize your work."
Savig and her colleagues had no trouble finding dozens of images of cats in the Archives' collection of American artists' papers, letters and sketchbooks. Here are a few from the exhibit, via The Washington Post.
Mine Okubo painting of a black cat, 1972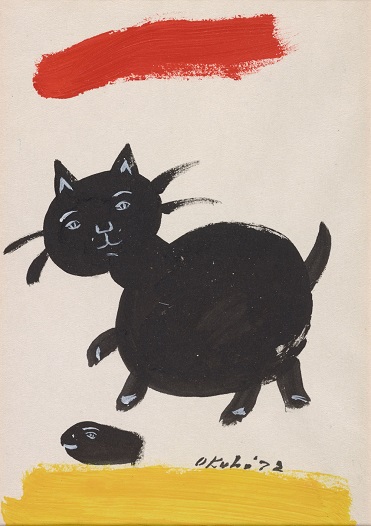 Japanese-American artist Mine Okubo is most famous for her illustrations of daily life in the internment camps in California and Utah that she was sent to during World War II (as documented in her 1946 book "Citizen 13660")
She went on to become a professional artist, and this painting — dashed off in gouache on a piece of paper about the size of an index card — "captures her playfulness and interest in everyday life," Savig says.
Ink drawing of a cat and three mice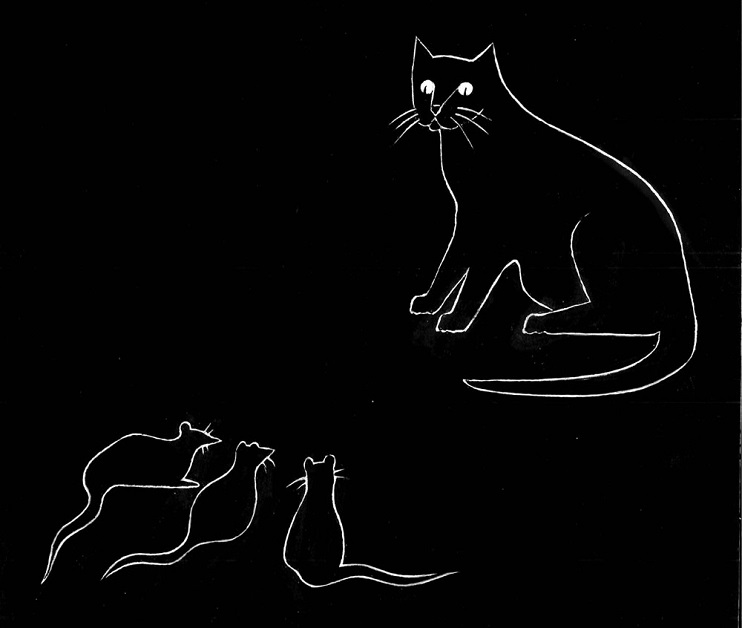 Charles Green Shaw, who was born in 1892, wrote poetry, made abstract paintings, had a newspaper column and illustrated children's books. He was known for his simplicity.
"This is probably a drawing he made for one of his children's books," Savig says. "It's a clever picture, striking in black and white, and you can see that the mice and the cat are sizing each other up."
Charles E. Buckley letter to Elizabeth McCausland, 1950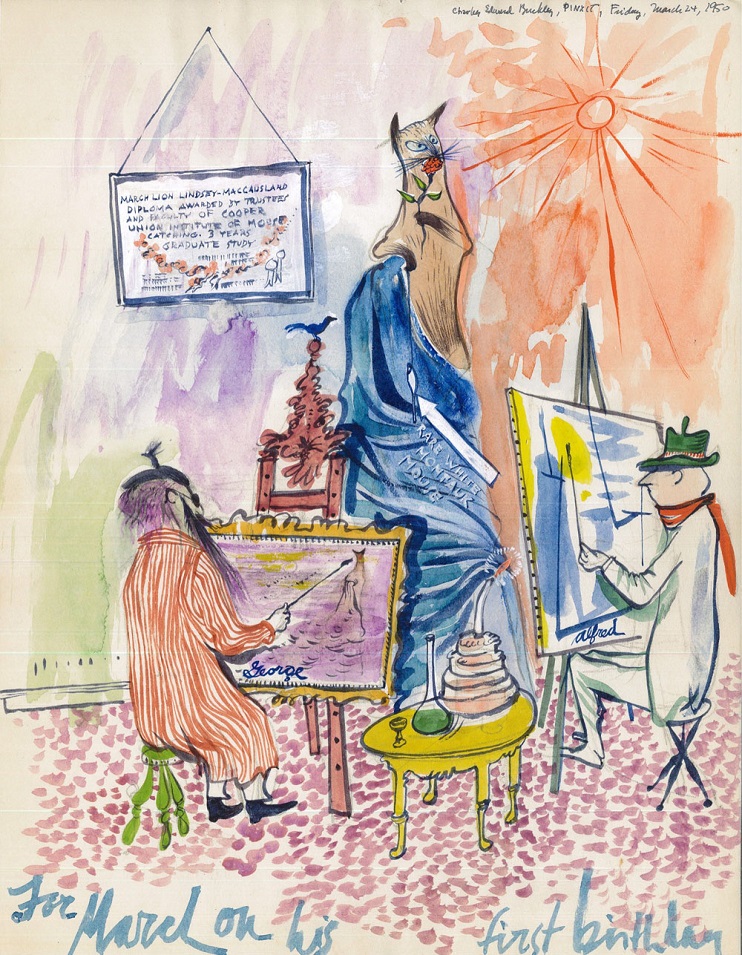 Art critic and historian Elizabeth McCausland took her Siamese cat, March Lion, with her wherever she traveled. In 1950, she threw a party for March Lion's first birthday at the Corcoran Gallery. To mark the occasion, Corcoran curator Charles E. Buckley made this birthday card for McCausland, featuring a watercolor he painted of March Lion posing for artists George Inness and Alfred H. Maurer.
Sketchbook, circa 1900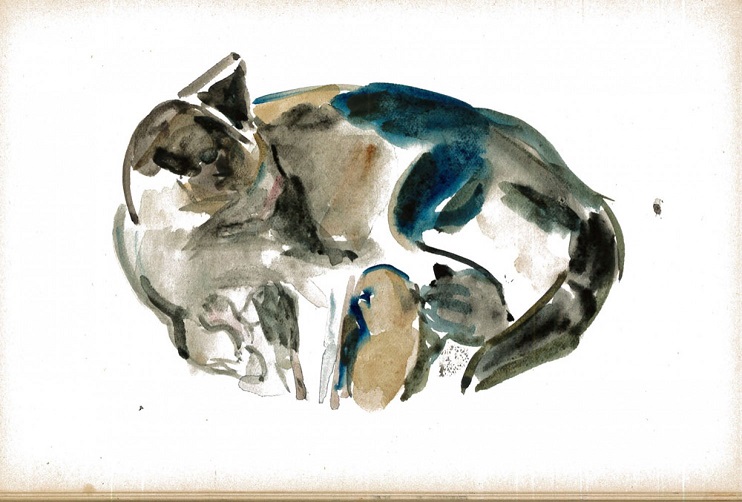 Esther Baldwin Williams, a Boston-based painter and art patron at the turn of the 20th century, filled an entire sketchbook with cats in watercolor and pencil.
"She was known for painting cats and flowers and women and children in her social circle. But when she started having children, she wasn't able to pursue painting as a career," Savig says. Her daughter — also named Esther — went on to be a successful artist, thanks to her mother's encouragement, Savig says.
You can find out more about the exhibit here.
Related Stories:
6 year old artist with autism creates stunning art
14 of the world's greatest paintings are given a hilarious kitty makeover
LIKE US!
Comments
comments powered by

Disqus
LIKE US ON FACEBOOK!