She went to a shelter to get a dog, but instead returned home with a 'broken' cat (Gallery)
A woman went into her local shelter, ideally looking for a dog to adopt, but instead came home with a cat that was more than beat up.
It was one of the best decisions she's ever made.
Meet Pineapple the cat!

reddit/Schauby93
"Pineapple is FIV+ and was attacked by a wild animal. He was brought to the shelter and never claimed by his former owner (if he had one). He has been neutered and nursed back to health at the shelter and he is pretty badly scarred, missing large patches of fur, has a deformity on his eyelid from the attack that will never go back to its original shape. He also walks with a limp. He's a little bit easy to startle but doesn't overreact or hide from us thankfully," Schauby93 shared on reddit. "Lastly, his jaw is damaged and his mouth doesn't close completely so he is always dropping kibbles as he eats."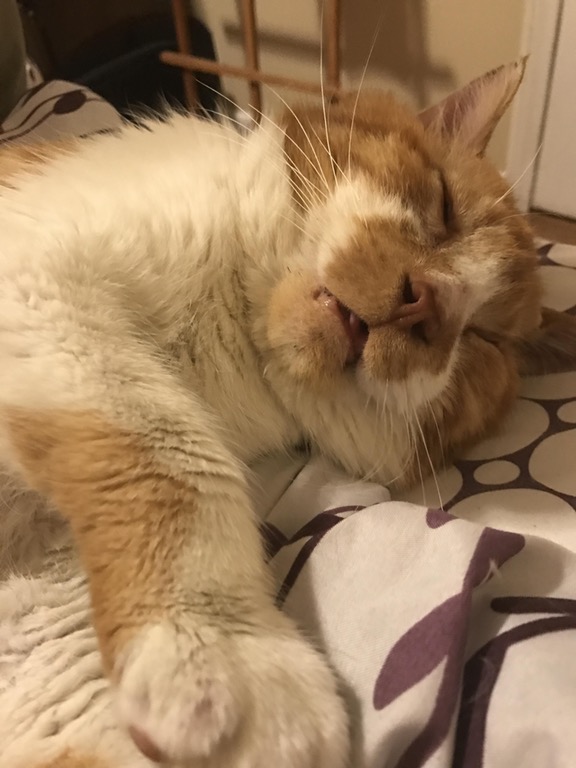 reddit/Schauby93
"Now for the good stuff... Pineapple is maybe 5 years old and has a lot of love to give. He purrs SO LOUD and he jut wants to snuggle up in his bed and be petted. He's super handsome if you look past the damage done to him and if you hit a certain spot when you rub his belly, his tail flicks uncontrollably. He's made himself extremely comfortable in our house after less than 12 hours, he's litter trained, and he loooooves people."
"That's all I really know about Pineapple and I am so glad we adopted him. The shelter was doing Empty the Shelters Day (free adoptions sponsored by the Bissell Pet Foundation) and after all dogs were adopted except one (who we couldn't adopt because we have a cat already), only cats were left. Even so, nobody was really jumping at the chance to take Pineapple home... except me. I wanted an old cat, an all-black cat, or one of the two not-so-normal cats (one with a deformed paw, the other... Pineapple!)."
"As soon as I approached his cage, I knew I wasn't leaving without him."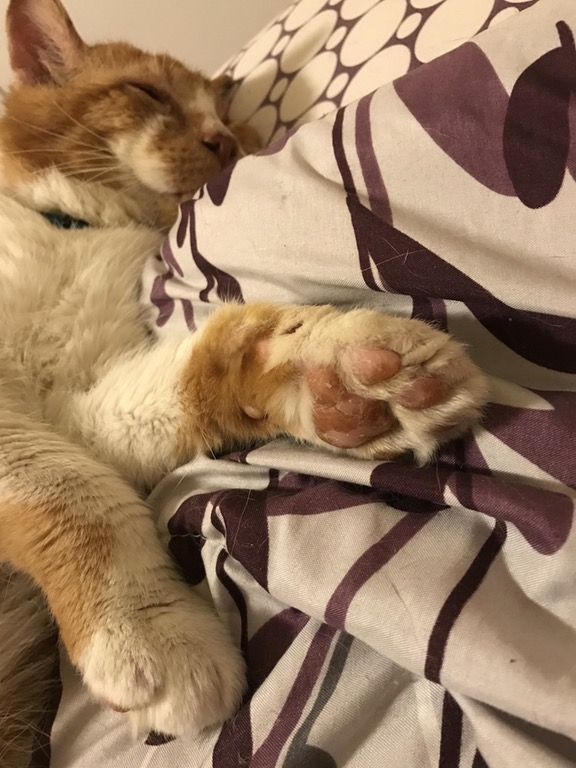 reddit/Schauby93
Pineapple is now living in a loving home, thanks to a woman who saw past his "broken" status.
You can now follow Pineapple on Instagram!
Cats with special needs need homes too. They make wonderful companions and you'll be amazed how much love they can give.
Share this adorable rescue!
Related Stories:
Purrlease don't overlook FIV+ cats, they need love too! (video)
A young woman walked into a shelter and asked for their least adoptable cat… (Gallery)
A sweet and important message to those looking for a pet to adopt
LIKE US!
Comments
comments powered by

Disqus
LIKE US ON FACEBOOK!