Watch: Dash cam captures man stopping traffic to save kitten
A brave man stopped traffic in a busy street of Hong Kong to rescue a teeny kitten in the road. This man is a hero!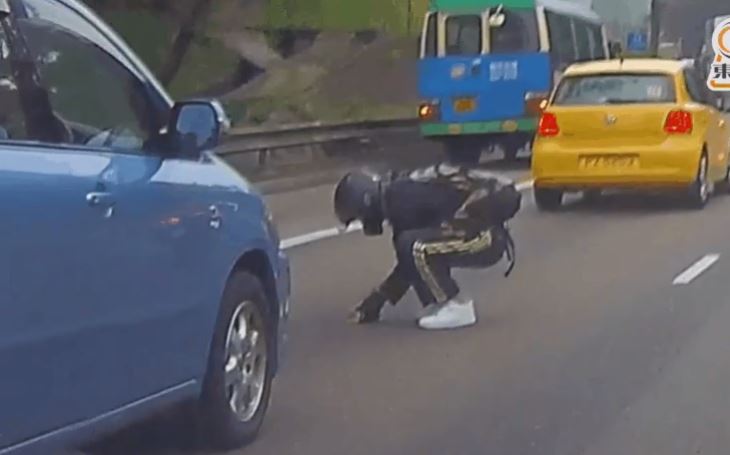 Hong Kong firefighter Kwok Kin Wai was riding his motorcycle toward Kowloon on the Lion Rock Tunnel Road in early morning traffic, when he saw a little kitty lying still on the highway as cars sped by over it. ‍
He quickly jumped into action. He parked his bike on the side of the road and ran across the street to where the kitten was crying in the street.
Hong Kong biker stops traffic to save kitten
Footage of his heroic rescue, captured by a dashcam, went viral after being viewed over seven million times on Chinese video sharing platform Miaopai.
Kwok later posted pictures of the tiny cat on his Facebook page, describing what happened and asking if anyone would adopt the adorable kitten. The post received more than 47,000 likes and 5,000 shares. Kwok later sent the kitten to an animal shelter volunteer that afternoon.‍
The kitten, named Lion, has since been adopted into his forever home.
Watch the full video below!
These small acts of compassion and bravery happen all over the world. We want you to remember that. We want you to remember that even though the world right now might seem scary and uncertain, there are always good people ready to step up. And good people will always outnumber the bad.
Share this rescue!
Related Stories:
Firefighters in Abu Dhabi close busy highway to rescue a cat (video)
Biker rescues abandoned kitten on busy highway and gives kitten a happily ever after (video)
LIKE US!
Comments
comments powered by

Disqus
LIKE US ON FACEBOOK!