Senior cat gets the most adorable birthday party after being abandoned by family (Gallery)
When Fred the cat was thirteen years old, his family decided they were going to move to Canada. Not only did they decide that Fred wasn't coming with them, they sentenced him to death.
"This family took him to the vet to be put to sleep instead of finding a solution for him," Piper Wood, founder of Hand in Paw, an animal rescue group in Los Angeles, told The Dodo. "Of course, the compassionate staff at the animal hospital called me and asked me for help, because they felt so bad for Fred."
Meet Fred the cat!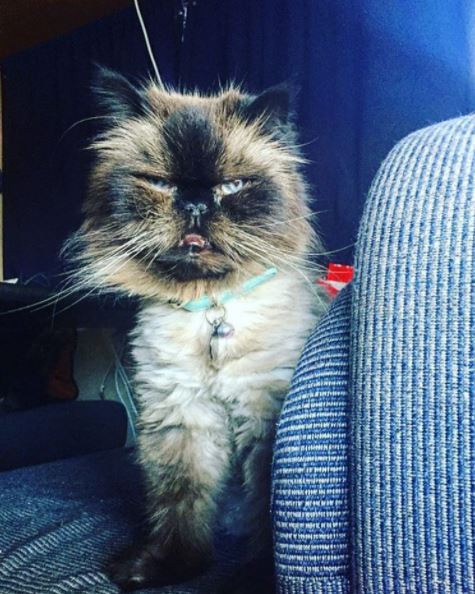 courtesy Kerry Shaw
Piper quickly found a mom to take Fred in.
"I just saw his face and my heart melted, and I was like, 'Can I keep him?'" Kerry Shaw, his future mom, told The Dodo. "And Piper was like, 'Yeah.' I think she already knew I was going to be a sucker for this cat.'"
And a sucker she was, because she fell head over heels for her senior fluff ball.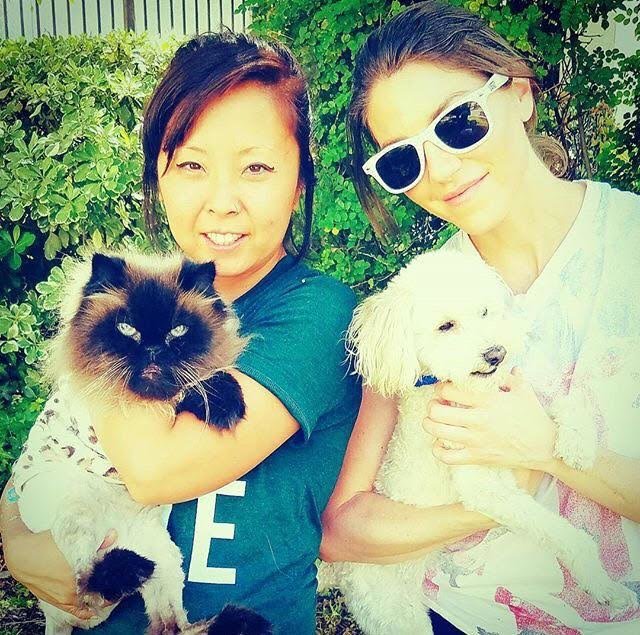 courtesy Kerry Shaw
"He makes the cutest sounds when he eats and drinks," Shaw said. "He likes to lean his face against a part of your body, and he'll fall asleep. And he does this thing where he paws you if he wants something, or if I'm cuddling him too much, he'll put his paw up against me, like, 'Enough already.'"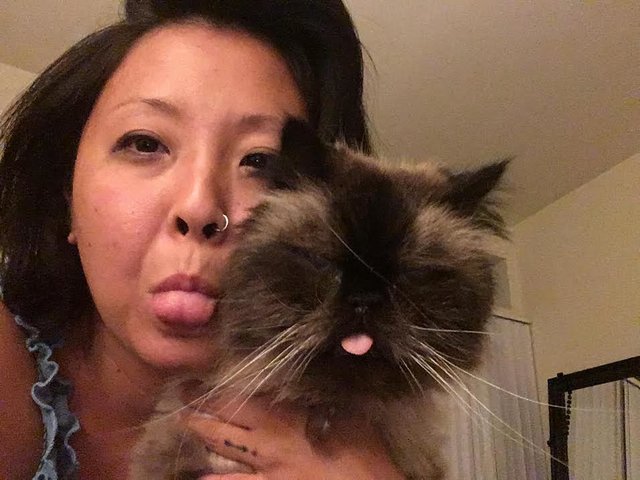 courtesy Kerry Shaw
A year has passed since she adopted Fred, so she decided to throw him a little birthday party.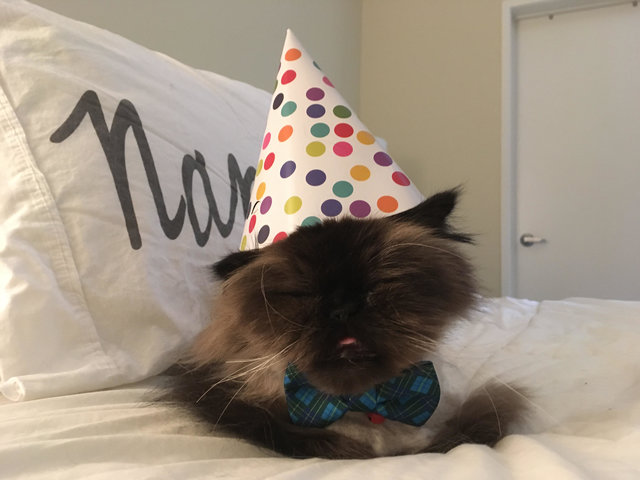 courtesy Kerry Shaw
"I think it's so important to celebrate animals," Shaw said. "They're just like people, and they should be validated."
The festivities included decorations, catnip confetti, and of course a cake.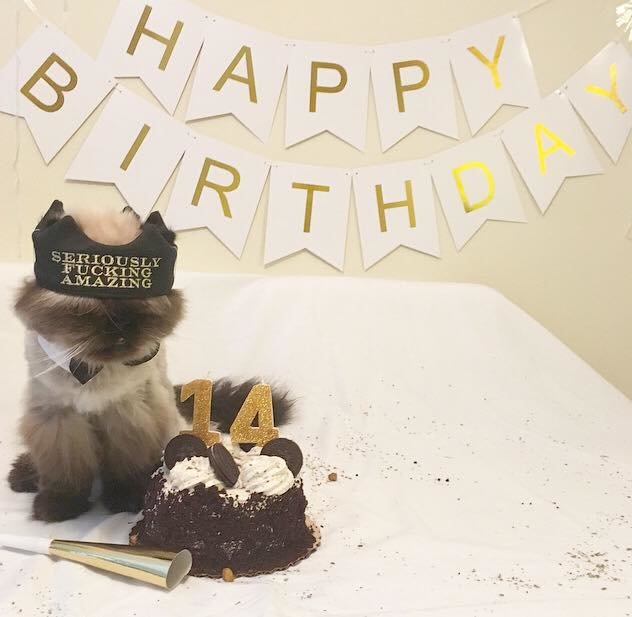 courtesy Kerry Shaw
Despite his cute grumpy face, Fred was ecstatic.
"I don't sit here and feed my cat slices, but he does like the frosting," Shaw said. "I only ever give him tiny amounts."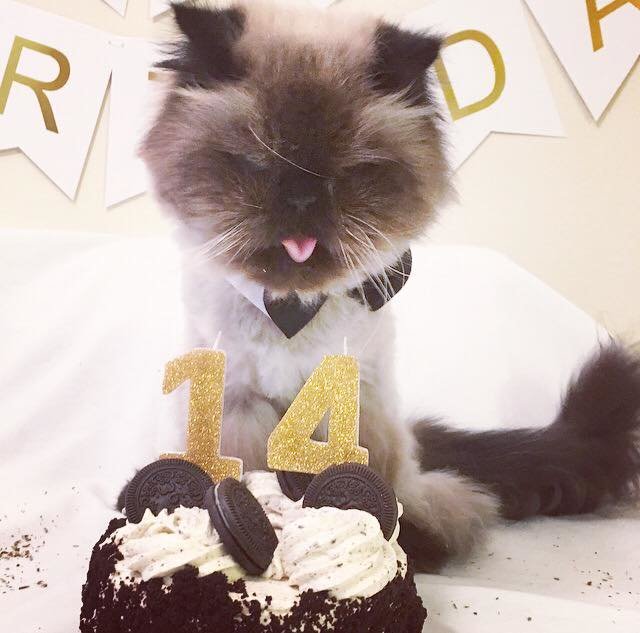 courtesy Kerry Shaw
From being abandoned and sentenced to death, to cuddling in a loving home and having adoptiversary parties, Fred has made quite the turn around.
"This cat made my heart so much bigger," Shaw said. "You never know what they'll do or how they'll change your life."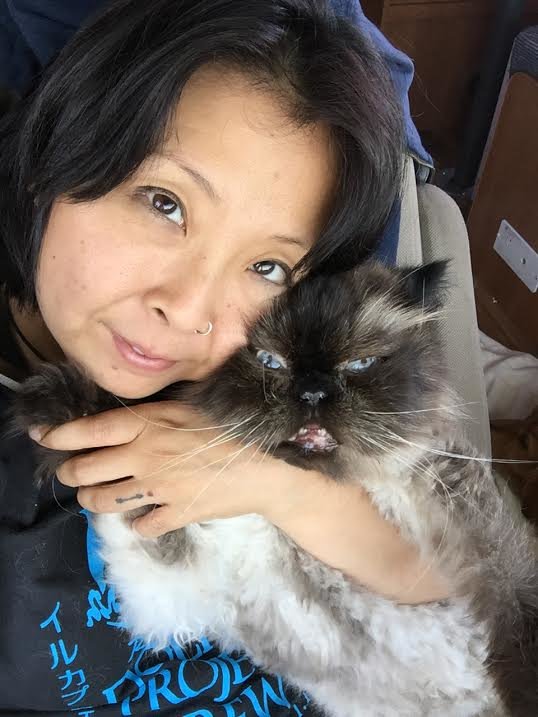 courtesy Kerry Shaw
We know exactly what you mean.
You can follow Fred on Instagram to see more senior cuteness!
Share the cute!
Related Stories:
World's oldest cat celebrates 31st birthday and is still going strong! (Gallery)
Family adopted a 20 year old cat from the shelter, never expected how much love he had left to give
via The Dodo
LIKE US!
Comments
comments powered by

Disqus
LIKE US ON FACEBOOK!