Animal shelter's 'Kitten Bjorn' is a great new invention for feral kittens
The Animal Rescue League of Boston posted a photo of their new invention, the Kitten Bjorn, and it has since gone viral with its adorableness.
""Baby Bjorn? More like Kitten Bjorn!" The ARL staff "wears" feral kittens to help socialize them before 10 weeks of age so they can be adopted. We only have a few of these amazing inventions, so please tag a friend if you think they could make one or two (or 10) to donate! #kittenwearing #ARLstaff" they shared on Facebook.

Animal Rescue League of Boston
A comment by the shelter on the photo revealed that "a talented lady crafted these for us without a pattern. Each one is slightly different; some are aprons, some are slip-on vests."
You can make your very own Kitten Bjorn that's unique and stylish to you. All you need, the shelter added, is "to have a large mesh "pouch" in the front to be able to insert the kittens."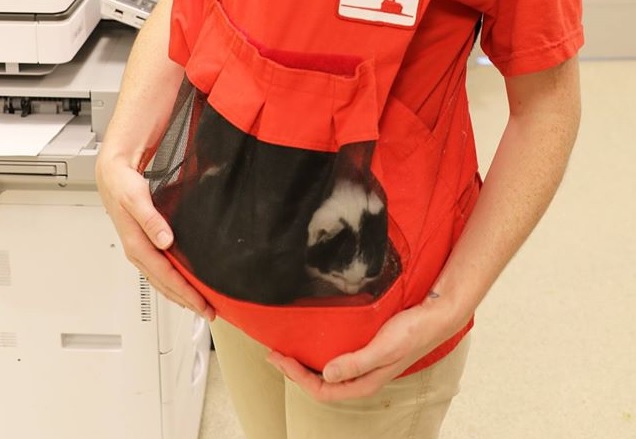 Animal Rescue League of Boston
If you're not the seamstress that could put together something like this, companies are taking notice of this adorable fashion accessory that serves a great purpose.
Gather Here Stitch Lounge, an arts and crafts store in Cambridge, Massachusetts, has offered their help.
"We could totally make a pattern from one of the originals and would love to host a sew-in to craft 10!" said a comment posted by the Lounge. "We love kittens and stitching for a good cause! Let us know if we can help!"
Who knows, you might be able to buy your own soon.
I'd definitely rock this wherever I went. You just never know when you might find some feral kittens that need rescuing.
Share the cute!
Related Stories:
Crocheted cat cocoons for newborn babies are the new hot thing (Gallery)
This strange new hoodie lets you become a kangaroo mom for your pet
(h/t) PEOPLE
LIKE US!
Comments
comments powered by

Disqus
LIKE US ON FACEBOOK!