A man built a cat castle for his little princess and its pawsome! (Gallery)
Well, now I want a cat castle!
Meet Quica the princess in her new fortress.
"When we just got her as a kitten I made her a castle out of cardboard, so that's where the idea came from. It became too small and unstable for her so I decided to make something a little more stable," frikandidlo shared on imgur.
"I bought a few Styrodur insulation plates with a thickness of +- 2cm and a 1,20x0,60meter size.
Every insulation plate of 1,20x0,60 meter was cut in three pieces with a simple electric jig saw so the biggest parts were 0,40x0,60 meter (same for the base). Because the base was also made of an insulation plate it doesnt become cold in the winter at all and it's easy to move somewhere else."
"I used construction adhesive to glue the different parts of the insulation plates together. Because all the biggest parts were the same size it was pretty simple to puzzle together two main levels in a fast pace, the castle form at the top floor was also cut with an electric jig saw. The glue then dried for about +- 15 hours overnight.
After that period it was more than stable enough for her to jump around. (I had to block the main entrance (and the hole at the side) while the glue was still drying because Quica couldn't resist climbing in.)"
"The day after we cut pieces of carpet with a retractable knife and glued the pieces on the three floors (again with the construction adhesive). This way Quica could sleep on a warmer / softer surface."
"Quica checking on me while I was taking pictures of her first floor."
"Again by using simple construction adhesive, I glued bamboo tiles to the sides so the outside would look a lot nicer. She immediately fell in love with it and spent hours running around and sleeping in her castle on the first day."
"She's always waiting to play hide and seek"
Picture of the top floor.
Looking at her peasants in a notable way.
Looking at her peasants in a sneaky way.
"The hammock was the latest addition. I made a 40x40cm wooden frame and pulled a pillow cover over it so it would result in a hammock form. The frame itself was attached by fixing the metal hooks to the wooden bars. Most of the weight is mostly worn by the iron wires attached at the sides and distributed because the hammock rests against the castle itself. This also gives it a medieval look.
It's in front of a big window so she can sleep in the sun during the day. It's also her sleeping spot during the night."
"The whole project only cost about 50 dollars + two days of 'work'."
Every princess deserves a castle.
All she needs now is a crown
for her to properly rule her subjects.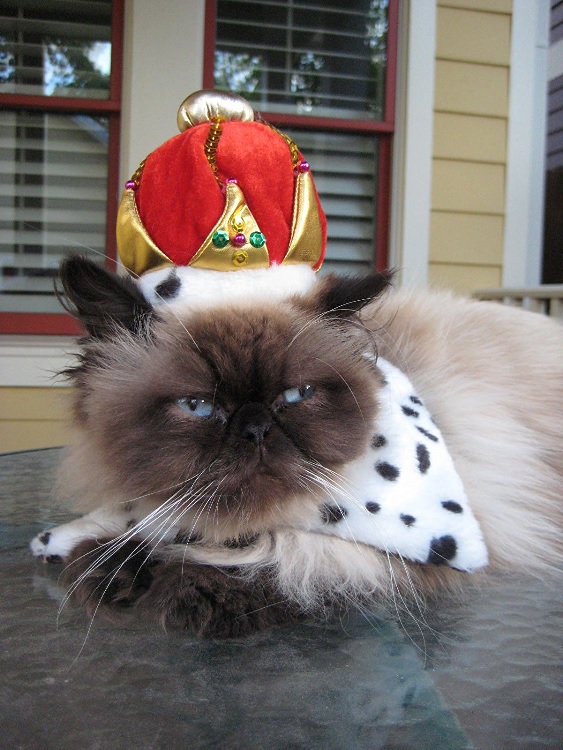 You can order a crown like the one above for your prince or princess on Amazon here
.
Share the cute!
Related Stories:
This DIY epic kitty castle will make your cat feel like royalty
She had a hot glue gun and a rainy day, so she built her cat a palace
LIKE US!
Comments
comments powered by

Disqus
LIKE US ON FACEBOOK!