Watch the touching moment when this blind, deaf, 20 year old cat gets reunited with owner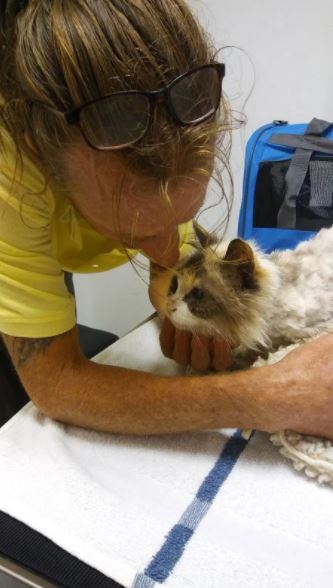 Raymond McNamara was having a wonderful trip in Fort Lauderdale, Florida, with his beloved 20 year old feline companion, Lilly.
Ray, 50, rescued Lily off the streets two years ago and has been traveling with her ever since. She really enjoys the love and attention, and Ray never had any problems.
That all changed when Lily, also deaf and blind, ran off and got lost. Ray desperately searched for Lily and posted fliers everywhere he could for more than three weeks, before finally accepting she wasn't ever coming back.
Heartbroken, Ray drove to California to look for jobs missing the comfort of having the travel-happy Siamese by his side.
Having lost her in February, Ray knew that Lily had most likely passed away. Then, in mid-May, he received an urgent message from his mother.
Animal rescue volunteers had miraculously found Lily at a Fort Lauderdale construction site, near the beach where she'd gone missing. She was hiding under beneath a trailer. Dehydrated and malnourished, she was covered with cuts and scrapes, but alive.
"I climbed in my car as soon as I could and started driving back to Florida, with tears of joy all the way," McNamara tells PEOPLE. "What a glorious occasion. Really, it's a miracle."
Watch the incredible reunion in the video below!
"He and that cat have such a strong bond — he's never going to let her out of his sight again," Kathy Bieniek, vice-president of Saving Sage Animal Rescue in Miami shared with People. "It was a very happy day."
"Because she's blind, she always sticks close," he tells PEOPLE. "But in early February, when we were at a sand dune, I walked 10 feet away and turned my back for a brief moment. And when I turned around, she was gone."
"It's so incredible that Lily was able to survive for two months on her own in the heat and torrential rain we'd been having," Bieniek tells PEOPLE. "She was in bad shape with liver and kidney issues and we had to put her on IV fluids. But with a lot of loving care, she made it."
McNamara fought back tears when he was reunited with Lily on May 19, telling animal care workers, "She's never going to get away from me again." As the cat gave him a head bump, he gently patted her frail body and marveled at her determination to live.
"She is my world," he tells PEOPLE. "There was no greater moment for me than being able to hold her again."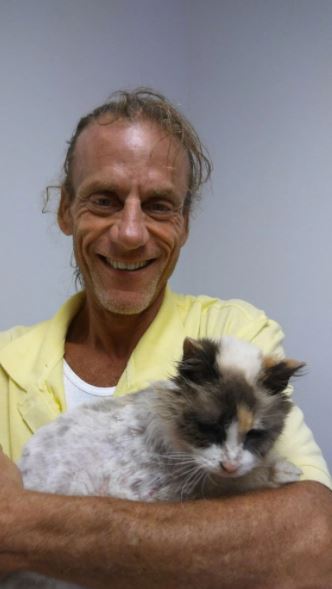 Share this heartwarming rescue!
Related Stories:
Lost cat returns home a lot fatter after spending 3 years in a pie factory
Two cats who were separated at a shelter are reunited again when their parents start dating
Man captures heartwarming moment of a lost cat being reunited with her family
via PEOPLE
LIKE US!
Comments
comments powered by

Disqus
LIKE US ON FACEBOOK!