Should we worry about our cats during the solar eclipse?
As I'm sure you've heard, the solar eclipse will be visible across North America on August 21, 2017.
What does this mean for our pets, more specifically – our feline overlords?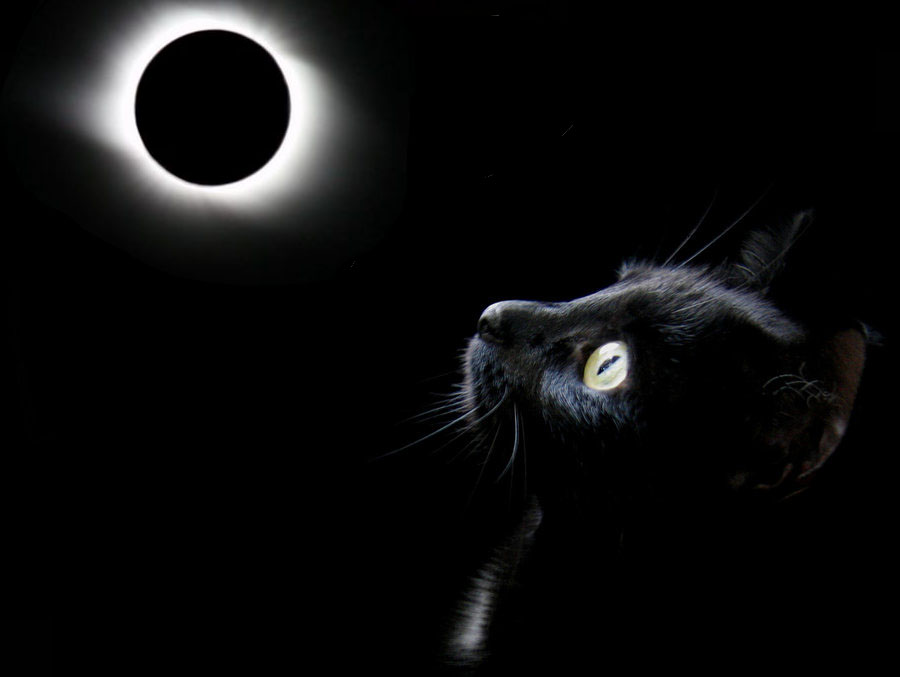 Some believe that the solar eclipse might bring out strange behavior of our feline companions. Maybe the eclipse is not what we think, and it's the kitty mothership returning to earth to communicate with cat kind? Maybe it is a portal to the cat dimension which is why we are not to look directly into it for so long… for our human eyes cannot handle the kitty craziness?
Or somehow the eclipse will provide cats the ability to use black magic and turn us all into mice?
I guess we shall wait and see… but in terms of safety for our cats, the solar eclipse is nothing to worry about.
As we all know, you shouldn't look directly into the eclipse without protective eyewear. Cats have the natural instinct to not look directly into the sun. That won't change today.
Don't expect any crazy behavior, just the usual kitty craziness you experience on a daily basis.
The only thing you need to worry about, if anything, is people. If you normally have an outside cat, be sure to keep them inside today, as large crowds looking at the solar eclipse can frighten them away. Also, sad to say, there are always some twisted people out there who might think it funny to hurt cats on events like today, such as black cats being in danger on Halloween.
Keep your kitties safe, and keep them inside.
*If you cat DOES start to practice dark magic… just give them some fishy treats and hope for the best. (And be prepared for your dog to turn into a mouse…)
Related Story: Every pet owner should have this in case of an emergency
LIKE US!
Comments
comments powered by

Disqus
LIKE US ON FACEBOOK!