One of the most EPIC scenes in Game of Thrones history is being immortalized through cat memes
Combining Game of Thrones with cats? We're sold.
WARNING: SPOILERS BELOW!
So, in Game of Thrones season 7, we saw a lot happen. I mean… A LOT.
The wall has been breached, the white walkers are coming, Dany and Jon are getting it on, and Cersei is doing what Cersei does best – scheming.
But, let us not forget one of the most EPIC scenes in Game of Thrones that also happened in season 7, and one of our top moments in Game of Thrones history.
We of course are talking about the OG, Olenna Tyrell, and how she used her final moments to stick it to Cersei one last time.
As Jaime Lannister offers her poison after his army takes down the Tyrell stronghold, Olenna delivers this iconic line.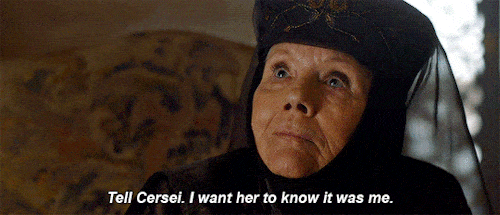 She is referencing the killing of Joffrey, the son of Jaime and Cersei, who was the sadistic ruler of the seven kingdoms and total brat. Joffrey died pretty gruesomely, and Cersei vowed revenge on his killer. Too bad Olenna went out on her own terms and Cersei gets to know that Olenna totally played her.
#thuglife.
Well, this epic moment is now being immortalized by… cat memes.
And this is why we love the internet.
Here are some of our favorites.
1.
2.
3.
4.
It's quite simple actually for any cat owner to do this, as referenced below.
1. Find a cat.
2. Add a prop on its head.
3. Caption - "Tell Cersei. I want her to know it was me."
4. Viral meme.

— Sapan Verma (@sapanv) September 5, 2017
I love this so much!
Share the funny!
Related Story: 10 Game of Thrones characters and their cat look-a-likes
LIKE US!
Comments
comments powered by

Disqus
LIKE US ON FACEBOOK!