Girl who's cat was stolen for over two years gets him back and throws a big party!
All is right in the world now that Cuqui the cat has been returned!
Kelsey K decided to share her story with iizcat and it's pretty crazy!
It all started in late 2014. Kelsey had Cuqui for over ten years, along with his sister, Biscit.
"We adopted them from a family friend and they were the sweethearts of the family. Cuqui (pronounced cookie) was named after my mom's childhood dog in Colombia, South America. He is the star of this story. His sister, Biscit, is a beautiful calico princess from whom Cuqui always steals food," Kelsey shared with iizcat.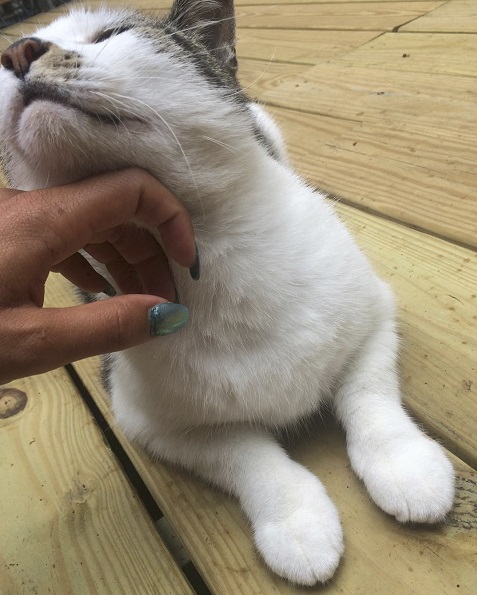 via Kelsey K
Next door, was their neighbor Mary. Kelsey had always looked up to Mary growing up, as Mary loved and rescued cats. But as the years went by, Mary began to show signs of mental health issues. She began to hoard cats and dogs, which her home had been raided before by animal control on multiple accounts. She even started to throw racial slurs to Kelsey's mother of Hispanic decent, dumped trash in their yard, and would be rude to them for seemingly no reason at all.
Cuqui and Biscit loved to play in the yard, especially Cuqui. He would frequently visit Mary's yard, and even after the stress and pain she put on Kelsey's family, Kelsey didn't have the heart to keep Cuqui away.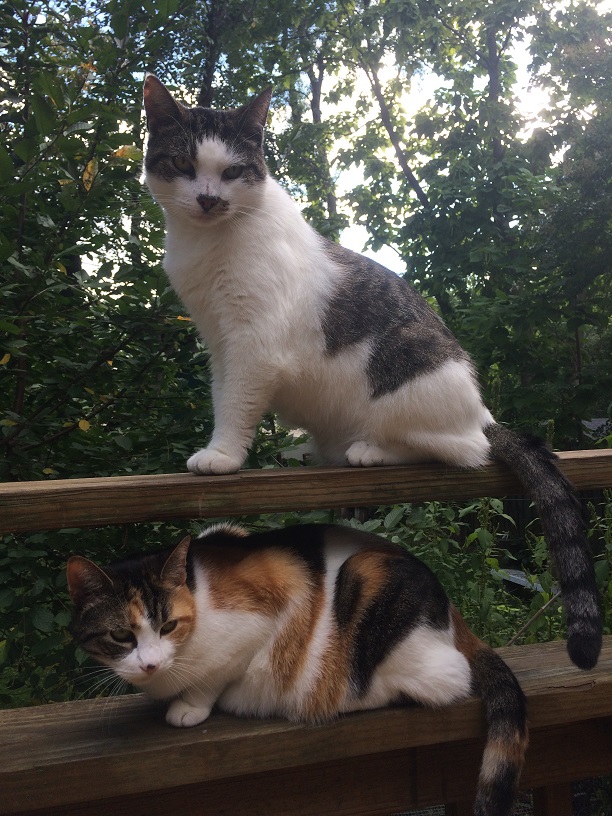 via Kelsey K
"We accepted this because there was really not much we could do and it seemed harmless to allow our bundle of love to bring some joy to a miserable lonely woman's life."
But then things made a turn for the worse, when Cuqui didn't return home one day. Kelsey immediately went to Mary's to see if Cuqui was there spreading his love. Mary would not answer the door after multiple attempts, and when she finally did, she threatened to call the police on Kelsey for trespassing. Kelsey and her family had no proof that Mary had Cuqui, so the police and animal control could not help.
The summer came and went and Kelsey and her family knew that she was keeping Cuqui away from them. Mary then moved away and Kelsey feared she would never see her beloved cat again. But she knew she would never give up.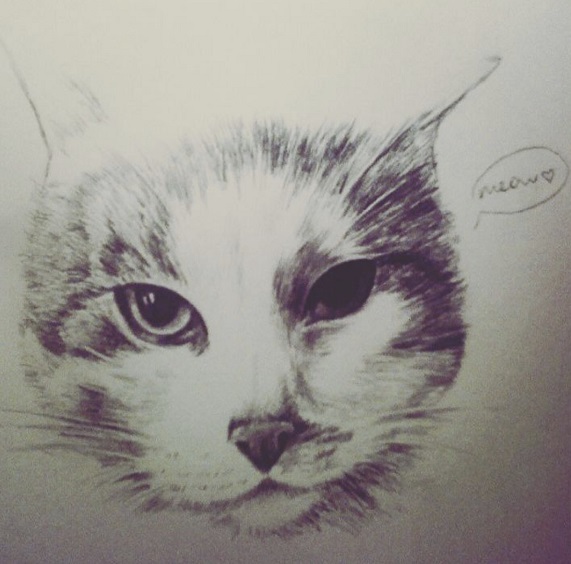 via Kelsey K
"After her move, I looked for every bit of evidence I could find against her and kept an eye out for her car. After researching online, I found it extremely difficult to locate someone by name, especially so soon after moving. A few times, my family got leads on her new location, and we would go to that area and look for her car."
"What scared me even more was what the government workers, who cleaned up her foreclosed house, found. It was disgusting. Mary had stabbed holes into her wall with a knife. She had written on her wall in big letters, "WATCH OUT FOR THE NEIGHBORS, THEY STEAL AND TRESPASS." Her bathroom upstairs had sunken through the floor because of a gaping hole in the ceiling. And worst of all, the workers found heaps of fur and bones in Mary's basement. She had let her deceased cats rot on her floor. We knew she had to have some sort of mental illness to let any of this happen."
"I went to the courthouse to request a trial, but they could not do anything if I didn't have Mary's new home address. Plus, as this was a civil case, they would not look at it after a year of the crime. I did not get discouraged. Finally, after a year of searching, my sister and boyfriend, Ryan, happened to be driving near our area when they saw her coming home from the nearby grocery store. They followed her for only a few streets when they found her home. It was located only blocks from her old house."
"At last! My family and I spent the next few months driving by the house for a glimpse of Cuqui. It was summertime again and my family would be leaving the country soon for a few weeks. Ryan was driving me past the house when we saw the next-door neighbor sitting on his porch. We decided to talk to him and we discovered he was one of the nicest men I have ever met. Tracy told us what he knew of Mary: how she was now living with her mom, she fed stray cats, and how he strongly suspected her of stealing neighborhood pets. She was also mean to her new neighbors, especially Tracy, who showed nothing but kindness to her and did not let her toss him around. He promised to keep an eye out for Cuqui."
"The day before my departure for Colombia, I finally saw my baby for the first time in over a year. He was sitting at a window on the second floor, looking as fluffy and chubby as ever. I managed to get a few pictures of him for evidence, and I had to restrain myself from jumping out of the car and barging into Mary's mother's house to retrieve my baby. My family was thrilled! We finally had evidence, now we just had to call the police. Easy, right? Not at all."
"After our return from vacation, I went right back to work. I gave Tracy a thank you gift and continued to drive by Mary's house. These next few months were the most emotionally difficult ones for me. I returned to the courthouse to get advice. Even with my evidence, the police could not promise to get Cuqui back to me if Mary were to deny having him. So the court was no use. I held off on calling the police because I hoped I could get Cuqui on my own. I imagined hundreds of different plans and scenarios, most of which were illegal, and being the law-abiding citizen that I am, questioned my loyalty to the law for the sake of my baby. As the months went on, my family began to lose hope but I became more and more obsessed with getting my Cuqui back home safely. I spent months with my boyfriend, crying in the car for hours at a time over the pain of losing Cuqui, not knowing if he was happy or safe. This situation was agonizing for me, as I felt guilty for letting Mary have Cuqui for this long and regretful that I had not just broken into her house. Ryan and I were the only ones who were still working to get Cuqui back at this point, and he patiently stayed up late almost every night I balled my eyes out over my lost baby. Every day, I prayed for his safety and happiness. I knew that as long as Mary loved cats and was ignorant of my stalking her, he would be safe."
"As much as the dread began to sink in, I still did not give up. Though I had no idea where she was moving this time, I had discovered a way to find her new house. It wasn't a month before my dad, boyfriend, and I pulled up to Mary's new house one hour away from her first two houses. Ryan spotted her car by a large house at the edge of expansive woods and fields. I could swear I saw a cat on the porch."
"The next few months were spent doing research on the new house. Ryan and I introduced ourselves to the wonderful neighbors, Leah and Mike. They were new to the neighborhood so they told us the little they knew about their new neighbors and about the man Mary was now living with. Their only son had recently died of cancer, so they wanted to help us. I kept in contact with Leah in case she spotted a cat in Mary's new yard. I also spent these next few months crying at night because of the guilt I still felt. I had no idea who this man was that Mary was living with, and how dangerous he could possibly be or if he would be willing to help me if I approached him.
As the second summer came around and after several visits to Mary's neighbors, Leah finally gave me the information I needed to get my baby back. She had just let us into her yard to peek into the neighbor's yard when she told me she had gotten to know Jeff, Mary's new housemate. He was apparently not at all dangerous; in fact, he was quite the opposite. One day, when Leah held a fundraiser, Jeff invited them all over to pet his horses and chickens and pigs. He had informed her that she was welcome to send friends over whenever they wanted to feed and pet his animals."
"The next Sunday afternoon, I bought a wig, wore a hat and sunglasses, drew freckles on my face, bought a bag of carrots, brought $300, and drove up to Mary's house with Ryan to meet Jeff. We were lucky he was outside already feeding his horses! After introducing ourselves as Leah's friends we got along so well! There was no talk of a missing cat for the first 10 minutes.
Then, he asked us if he wanted to watch his pigs do a trick. He went inside his house to grab some treats for them and Ryan and I stayed back. I saw a cat! I walked up the hill toward the house, face shielded so Mary wouldn't look outside and see me, I saw my baby. He was sprawled out comfortably against the back porch. After 2 years of not having him in my arms I started to shake uncontrollably. I had two options: take the cat and run, or ask Jeff nicely to help me get him. I did the right thing. When Jeff came outside, I explained everything and told him the real reason for our visit. He was shocked and immediately wanted to help! He knew Mary was a little bit crazy but she had been nice to him during her stay! We decided to plan this carefully so that no one would get in trouble."
"For the next two days, I kept in contact with Jeff. We decided he would snatch Cuqui up and take him to the neighbor's house the next time Mary wasn't home. In the meantime, he sent me pictures of Cuqui being spoiled with delicious food because Jeff was going to miss him. That Tuesday, I got a text from Leah: "We have our cat, come get him." Needless to say, Ryan and I were out the door in less than 2 minutes and driving up to Leah's house as fast as possible! After almost an hour in the car, we were finally entering Leah's garage. I looked around anxiously for my baby, but he wasn't there. Two years of searching for my Cuqui and he had already escaped! We searched the whole garage, keeping hopeful. It wasn't until we called Jeff to help in the search that he found my Cuqui easily."
"The poor thing was hiding behind the narrow space between a large wooden board and the wall. When I picked him up he was so scared and confused that he didn't even look at me at first. He squirmed minimally but I didn't put him down anyway. He behaved himself in the car ride home. As he warmed up to me he even started purring. When we got home, he immediately made himself comfortable! We cuddled that night and for the next few nights and we still cuddle almost every night (I have to alternate with Biscit of course)! It took Biscit a few weeks to become accustomed to having her brother back but now they're good friends again! Our family is finally complete again!"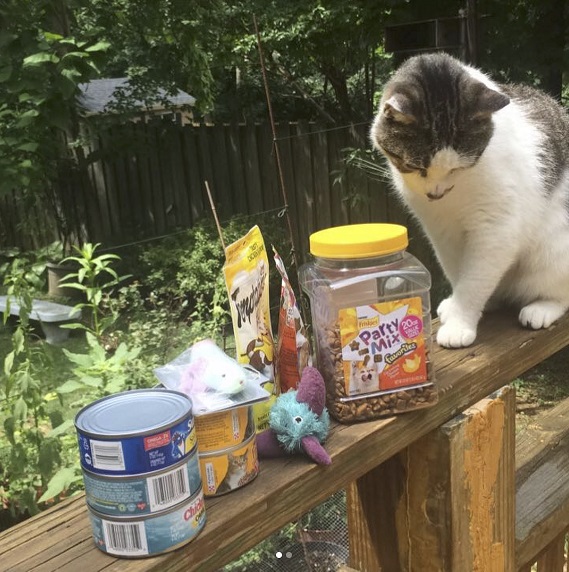 via Kelsey K
"My family was so happy to have Cuqui home that we decided to throw a party in his honor. Jeff was not able to attend but we had dozens of other friends come to my house to welcome my baby back home. Many people brought gifts of kitty treats, toys, and special wet food. Cuqui enjoyed himself around all the people and received many hugs and chin scratches. He gives the softest head butts to the face and he sits in the kitchen while we cook, he follows us around everywhere, and he comes when he's called. I periodically send Jeff pictures of Cuqui's life back at home, and in return I receive pictures of Jeff's pigs."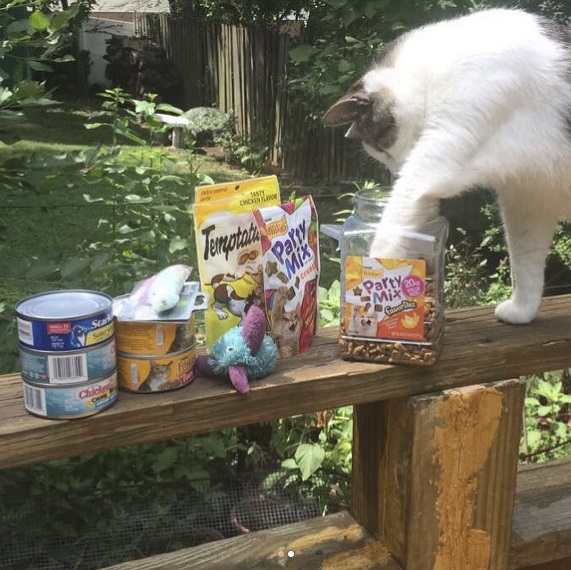 via Kelsey K
"I could have never thanked Jeff enough for such a huge favor he did for my family and me. If there is one thing I learned from this whole experience, it is to never lose hope and to pray everyday. I can't express it enough how hope got me through these two years. With hard work and constant prayers, I believe anything can be made possible."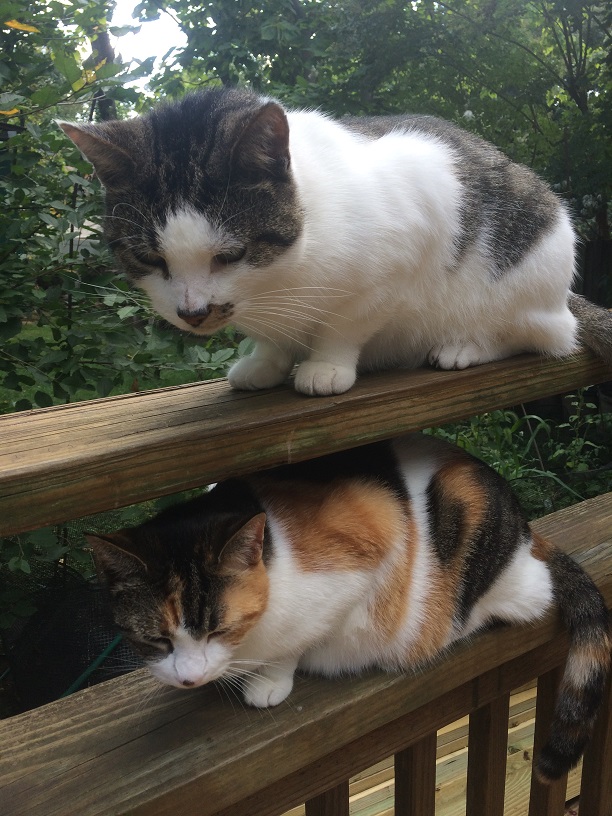 via Kelsey K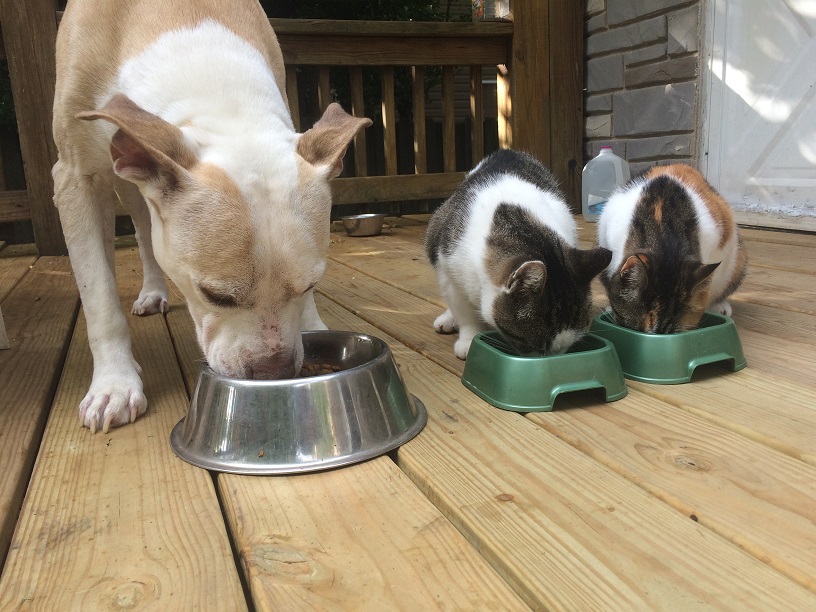 via Kelsey K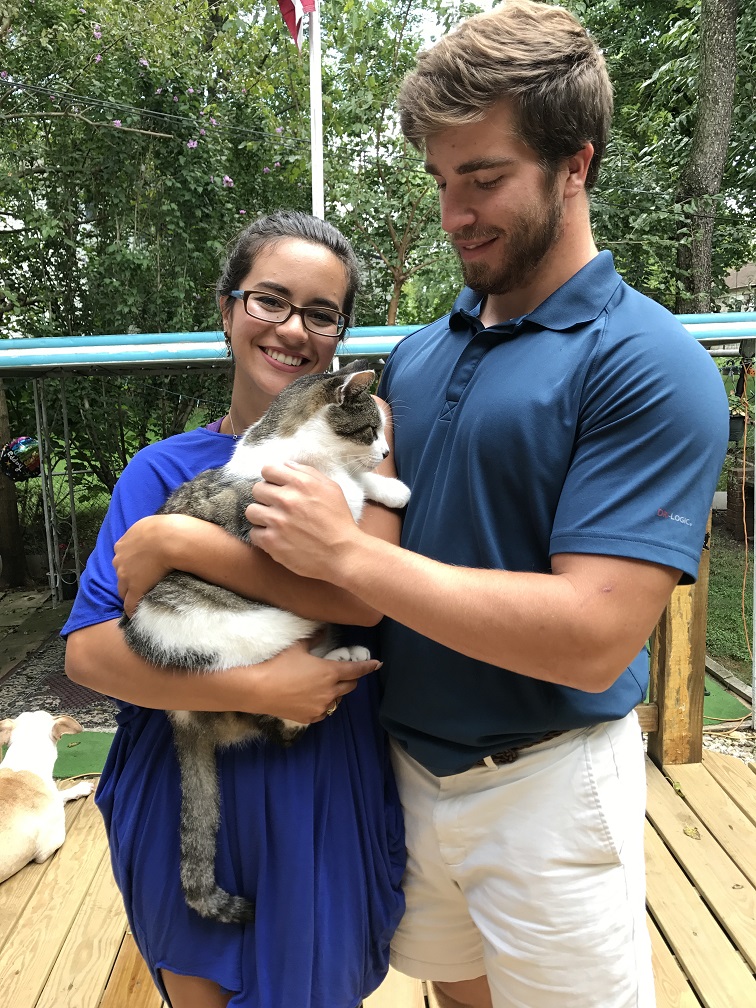 via Kelsey K
What a ride! We're so glad that Cuqui is back, safe and sound!
Share this rescue!
Related Story: Man who rescued sickly kitten never expected the kitten to return the favor
LIKE US!
Comments
comments powered by

Disqus
LIKE US ON FACEBOOK!