Max the cat loves the library… but the feeling is not mutual (Gallery)
The library is the place to be to study and hang out with your friends at college. Everyone is welcome… well… everyone but Max the cat.
Meet Max!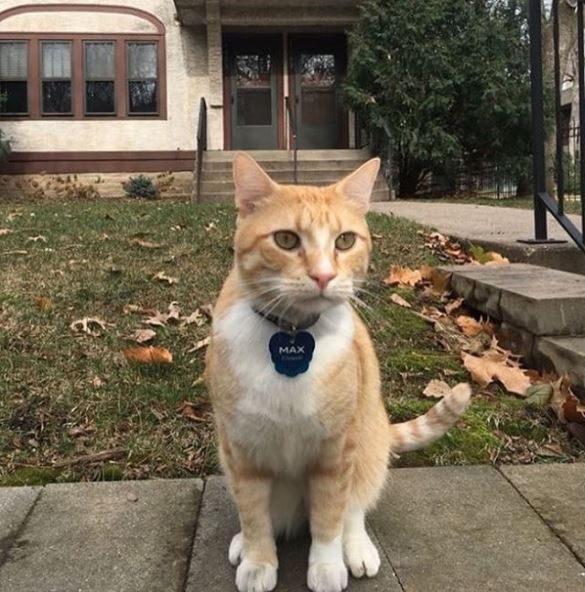 @cool_cat_max_and_gracie
Max was adopted by Connie Lipton after spending a few years on the streets. But finding a forever home wasn't going to stop Max from exploring his new domain: Macalester College, near where Lipton lives.
Max's friendly purrsonality caught the attention of students and staff on campus.
"We've had multiple calls because his phone number is on his tag," Lipton told the Post. "He's a funny guy. He loves people. He loves to socialize — with groups."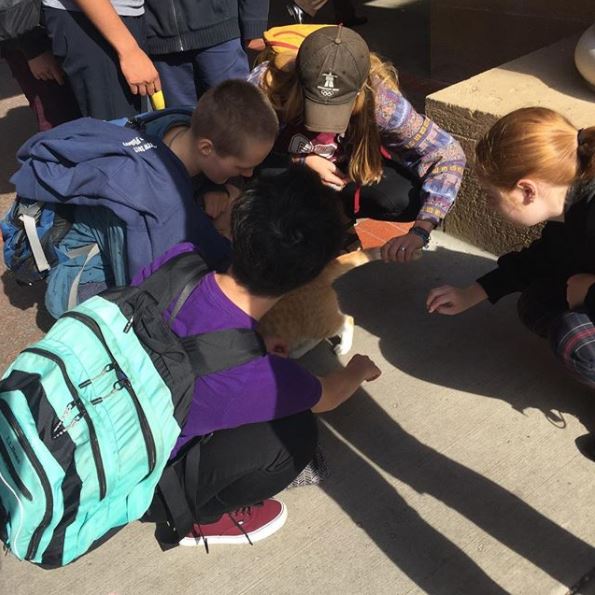 @cool_cat_max_and_gracie
Max became the big cat on campus, and he was basically allowed wherever his little heart desired… everywhere but one place… and that was the college library.
And as we all know, cats want to be where they are not allowed to be. It's in their nature.
Here is Max on camera after breaking in a month ago.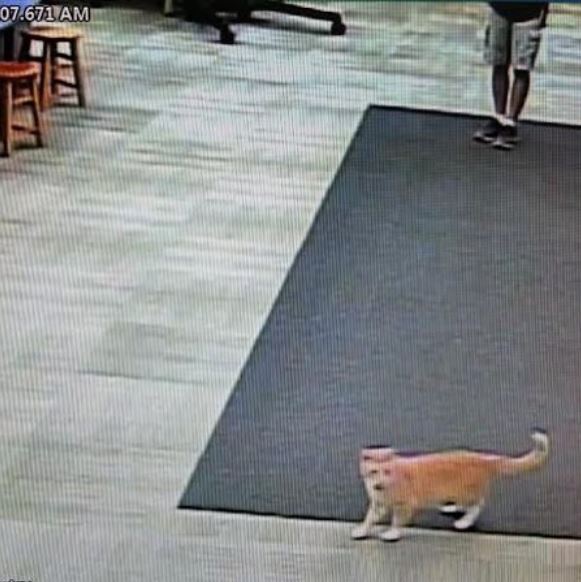 @cool_cat_max_and_gracie
Due to some students/staff having allergies, and his friendly nature being a bit distracting for studying students, Max was banned. This hilarious sign then went up in October and naturally, it went viral.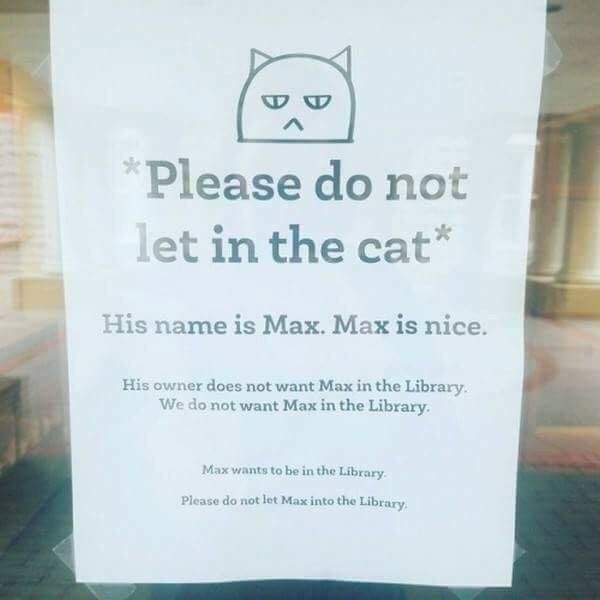 @cool_cat_max_and_gracie
It was created by Christopher Schommer, a library employee. He returned to work after 12 weeks of parental leave, so he'd missed some of the Max saga. He visited Max at his home so there's no hard feelings!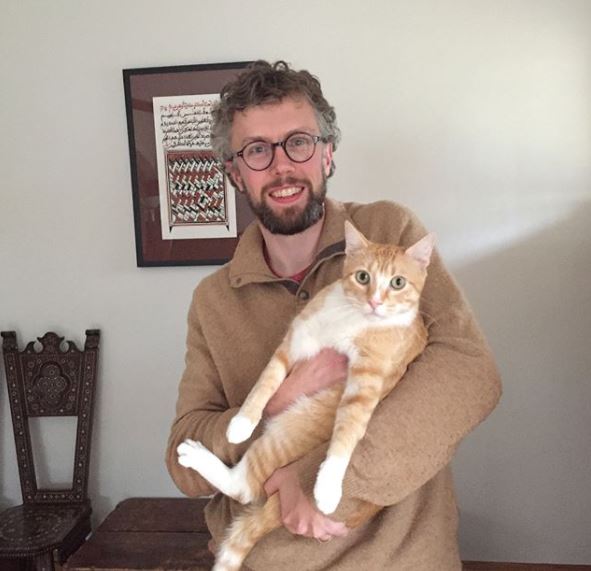 @cool_cat_max_and_gracie
The cat illustration was taken from The Noun Project, and Schommer and the illustration's creator, Gamze Genc Celik, are taking Erin McGuire's tweet to heart and turning the sign into a children's book!
The internet also decided to get involved, inspiring the hashtag #letmaxin and cat lovers creating library cards for Max.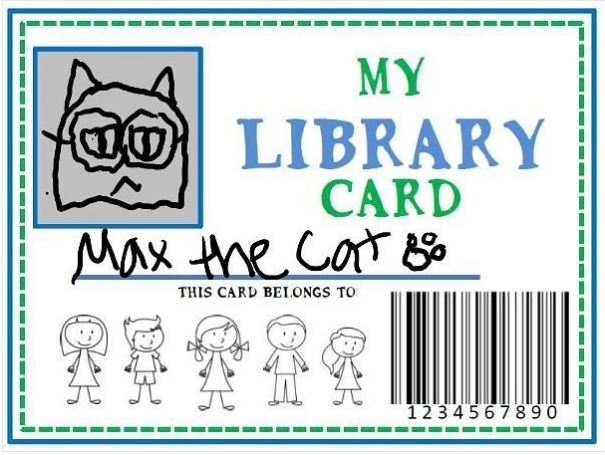 @cool_cat_max_and_gracie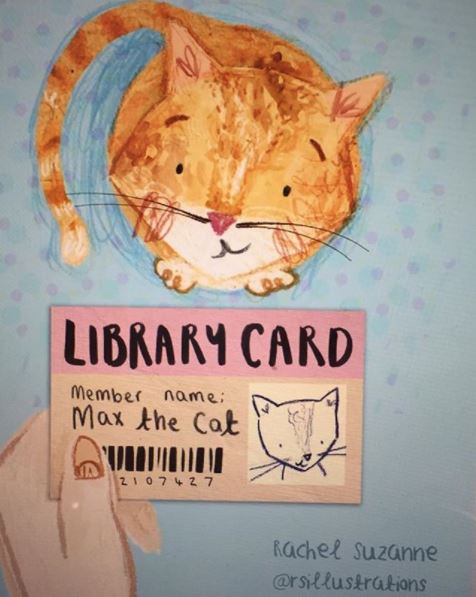 @cool_cat_max_and_gracie
Max still isn't allowed in the library however, and due to a construction project underway on campus, his roaming days are over. Lipton is naturally worried that Max's inquisitive nature might get him stuck.
That doesn't mean he's still not getting to go outside, however. Lipton purchased a leash and harness so she can take Max on walks.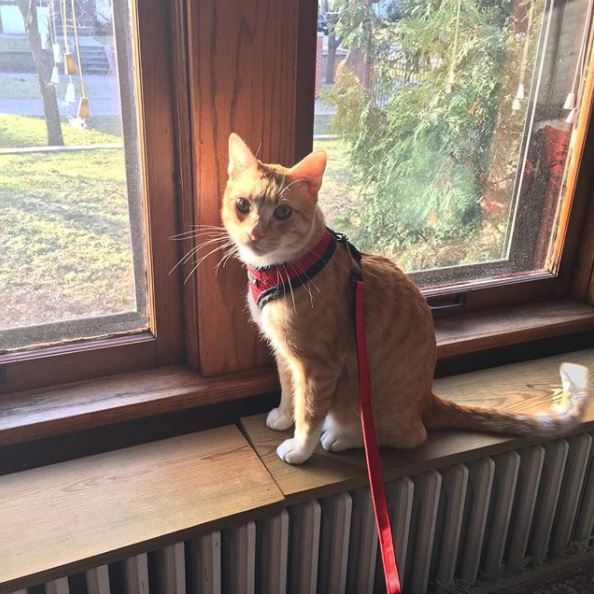 @cool_cat_max_and_gracie
"He's going crazy. He cries and howls and paces around, looking out the windows," Lipton said. "I'm really hoping he takes to walking on the leash. Then I can just walk him over there and he can still see his peeps and have his social life."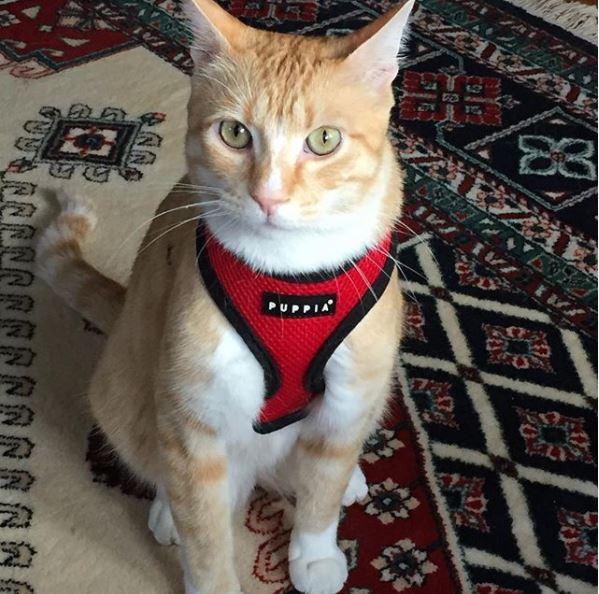 @cool_cat_max_and_gracie
You can follow Max and his adventures on his Instagram page!
Share the cute!
Related Stories:
Shelter cat gets second chance and is loving life living in a book store!
Library cat outlasts councilman that wanted him gone
LIKE US!
Comments
comments powered by

Disqus
LIKE US ON FACEBOOK!