Grandma has been taking care of stray cats but one of them is just a little bit... different
When Eric Hertlein went to visit his grandmother, who is a huge animal lover, he expected to see the stray cats she befriended hanging out on her porch. He greeted her with open arms, and as he said hello to the kitties, one in particular caught his eye…
Snuggled up among the cats in a bed all his own was an opossum!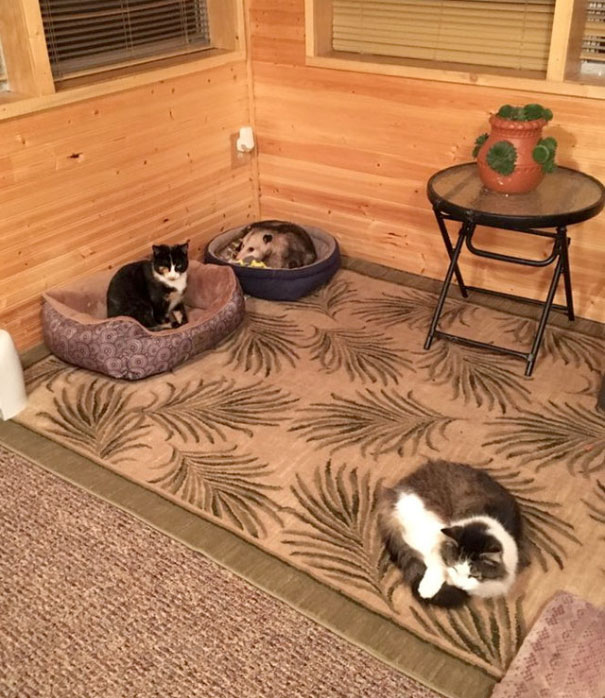 Eric Hertlein
When he pointed the imposter out, his grandma sweetly denied it. She told him that it was indeed a cat that she named Tete.
"She reassured me it was one of her cats," Eric told The Dodo. "I told her it wasn't what she thought it was."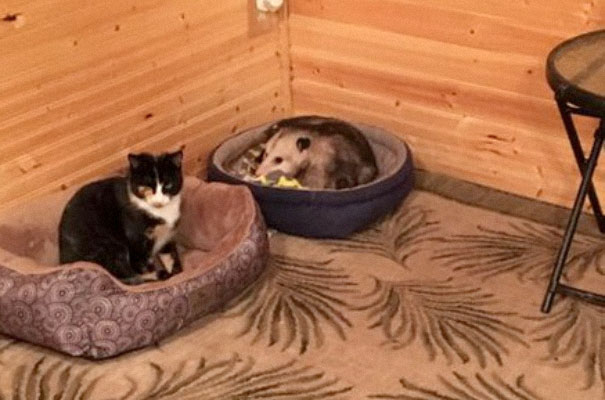 Eric Hertlein
"I laughed for a good five minutes," Eric said. "She didn't realize what I was laughing about until I started pointing out the pointy nose and skinny tail. She didn't realize he wasn't a cat."
Grandma took a closer look.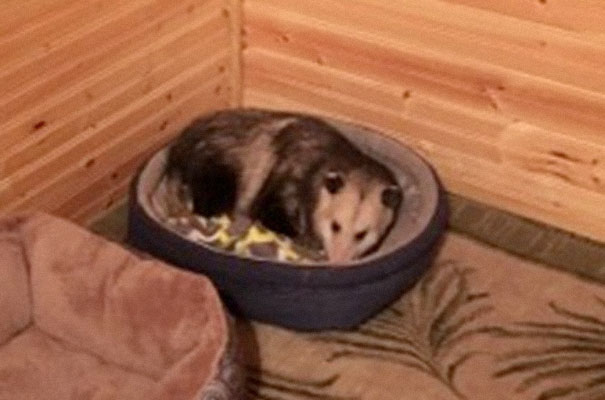 Eric Hertlein
"She kinda just sat there," Eric recalled. "Then she got a little closer ... and slowly looked up at me with the biggest grin on her face and said, 'Well, he hasn't bothered me yet, so I'm OK with him being here!'"
Tete has been coming to grandma's court since he was a baby, which grandma mistakenly took him in as a needy kitten. Tete was likely orphaned and has been growing up with the stray cats, who seem to have accepted him into their clan.
"She loves animals and taking care of them whenever she can," Eric said. "It kind of just motivates you to do better and treat other beings better too."
Share this adorable story!
Related Story: Blind raccoon had been visiting this yard every day for years, until one day he brought some friends
via The Dodo
LIKE US!
Comments
comments powered by

Disqus
LIKE US ON FACEBOOK!