Cat missing for 10 years returns home after surviving California wildfires
And this is why you microchip!!!!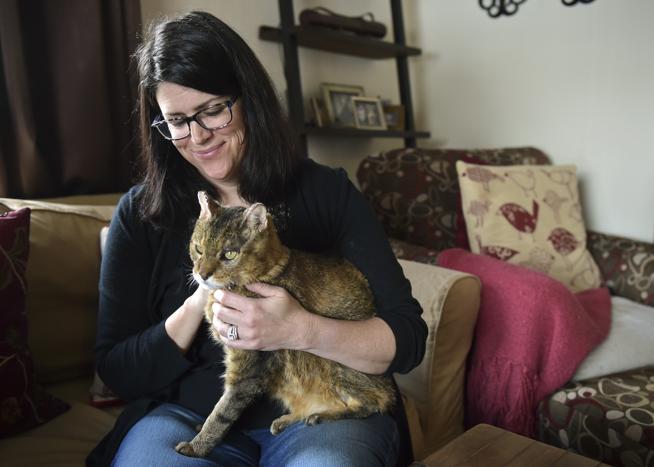 via People
According to Times-Call Local News, Pilot's story began when he was adopted by Jenn Thompson, her husband and her two young children back in 2004. They had the kitten microchipped and he lived as an indoor-outdoor cat in Santa Rosa, California. She says Pilot followed the kids around like a loyal dog, until he wandered away one day about three years later.
The family was devastated; they searched for him and checked around the local shelters. When he didn't turn up, they feared the worst — that he'd been taken by a coyote. In 2010, the Northern California family moved to Longmont, Colorado, and assumed they'd never see Pilot again.
Over the years, they adopted four other cats. When one recently succumbed to cancer, Thompson started to ponder adopting another. The Denver Post reports that she felt a particular pang in her heart after watching the devastation from wildfires in and around California's wine country this past October. She hoped to adopt one of the hundreds of rescue cats from the area.
"I was telling one of my friends out here, 'I feel like I should adopt one of these cats,' because there were so many," said Thompson. "I've been telling my husband, 'We have a vacancy.'"
As fate would have it, she received a phone call on Oct. 31 about one of those very, very special cats.
Miraculously, Pilot, who had disappeared from the Thompsons' California home in 2007, was found in the rubble and ash near Santa Rosa by a local woman seeking her own cats. Pilot was only a little over a mile from where he'd originally gone missing.
"It's pretty crazy," Thompson said. "I got off the phone and told my husband, and he's like, 'You're going to go get him, right?'"
Can't get enough of cats, dogs and other furry friends? Click here to get the cutest pet news and photos delivered directly to your inbox.
Pilot was in very bad shape, burned and starving, but alive and, coincidentally, being cared for by the same pet hospital where Thompson's sister works. That's when vets found and scanned his microchip. The rest is history, as well as a very bright future for the feline and his long-lost family.
Thompson traveled to Northern California to reunite with Pilot. He's needed two surgeries so far, including one that amputated five of his toes, but he's healing now. He's also settled back into his new, "old" home with his original family and reacquainting himself with the gang.
"I think he recognized my voice and that was pretty cool," Thompson said. "He definitely recognized my daughter. Definitely. She was eight when he went missing. Right away, he went and cuddled up with her. I had no doubt. It's like, OK, he knows my kid."
Thompson started a GoFundMe campaign on Pilot's behalf, as the cat needed extensive care and treatments. Donations have since poured in and surpassed $4,000. Their story has touched and instilled hope in so many.
"Everything has been so surreal. And just how many people have been interested and supportive and on Pilot's side, it's been really cool," said Thompson.
Although Pilot is now 13 years old, a stoic senior cat, he still loves people and still has the same old habit of trying to stand in his water dish, a quirk the family had almost forgotten.
Just three weeks ago, the Thompsons updated Pilot's fans and friends on his GoFund Me page: "He is up to 11 lbs. now … and growing a lot of new whiskers! It's been amazing to see him start to blossom. He's truly a miracle. I will continue to post updates about his progress! Thank you again to everyone who had been a part of this journey with us."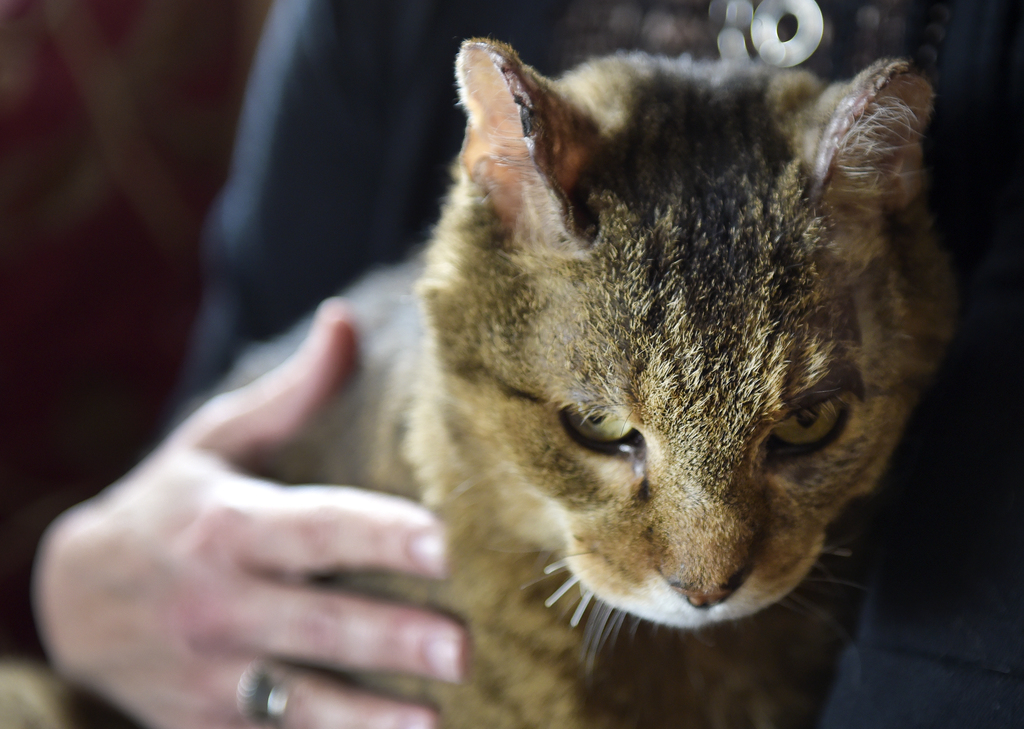 Share this great story!
Related Story: Lost cat returns home a lot fatter after spending 3 years in a pie factory
LIKE US!
Comments
comments powered by

Disqus
LIKE US ON FACEBOOK!