After the Las Vegas shooting, this survivor needed help... and she got it from her cat
Nichole Stone was at the Route 91 Harvest music festival in Las Vegas last October when she witnessed the mass shooting that took 58 lives and injured over 500 others by suspected gunman Stephen Paddock.
Nichole returned home in California unharmed, but the trauma of what she witnessed weighed heavily on her shoulders. The 24 year old had plenty of support from her friends and family, but there was one friend who helped her the most with the healing process: her cat.
"Connor knows when I'm not OK. He can sense it whether I'm sick or I'm emotional or going through a hard time," Stone told TODAY. "When I'm having an anxiety attack, I can sit there with him and just let my emotions go and there's no judgment."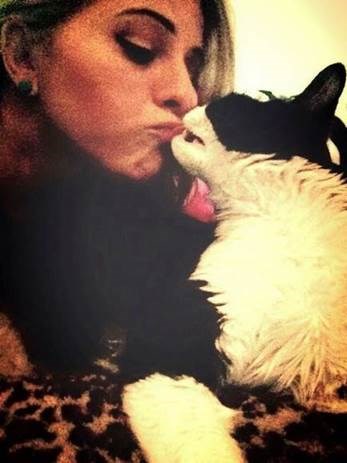 via Nichole Stone
Ever since she adopted Connor from the shelter as a kitten in 2014, Nichole and Connor shared an incredible bond. Connor was always a people person, and instead of playing with the other kittens, Connor approached Nichole and licked her nose. She was hooked ever since.
And it is Connor who is helping Nichole through her PTSD. She would have nightmares of the shooting every night, and any loud noises would send Nichole into a panic.
"But when I have a bad dream and I wake up, I'm reminded where I am because I have my snuggle bug next to me every night," she said.
Nichole was at the front of the stage when she heard a louse noise erupt behind her. She thought it was a firecracker at first, but as the crowd began to scream, Nichole saw the real horror. Luckily, she was able to escape unharmed.
Nichole still has anxiety and bad dreams, but they've eased up and she says it's largely due to Connor, whom she wants to officially register as an emotional support animal.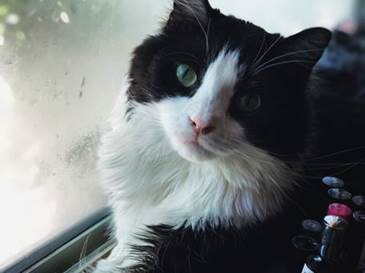 via Nichole Stone
Samantha Bell, the cat behavior and enrichment lead at Best Friends Animal Society, who first introduced Stone to Connor, said it makes sense that animals like Connor have provided people like Stone with so much support.
"You're still able to give love even if you are completely spent and have no love to give. And you feel their love back," Bell said. "To know that this creature needs you and loves you, it helps you keep going every day."
Related Story: She adopted a cat to help her with depression and PTSD. This picture says it all.
via TODAY
LIKE US!
Comments
comments powered by

Disqus
LIKE US ON FACEBOOK!