A cat's guide to surviving the super bowl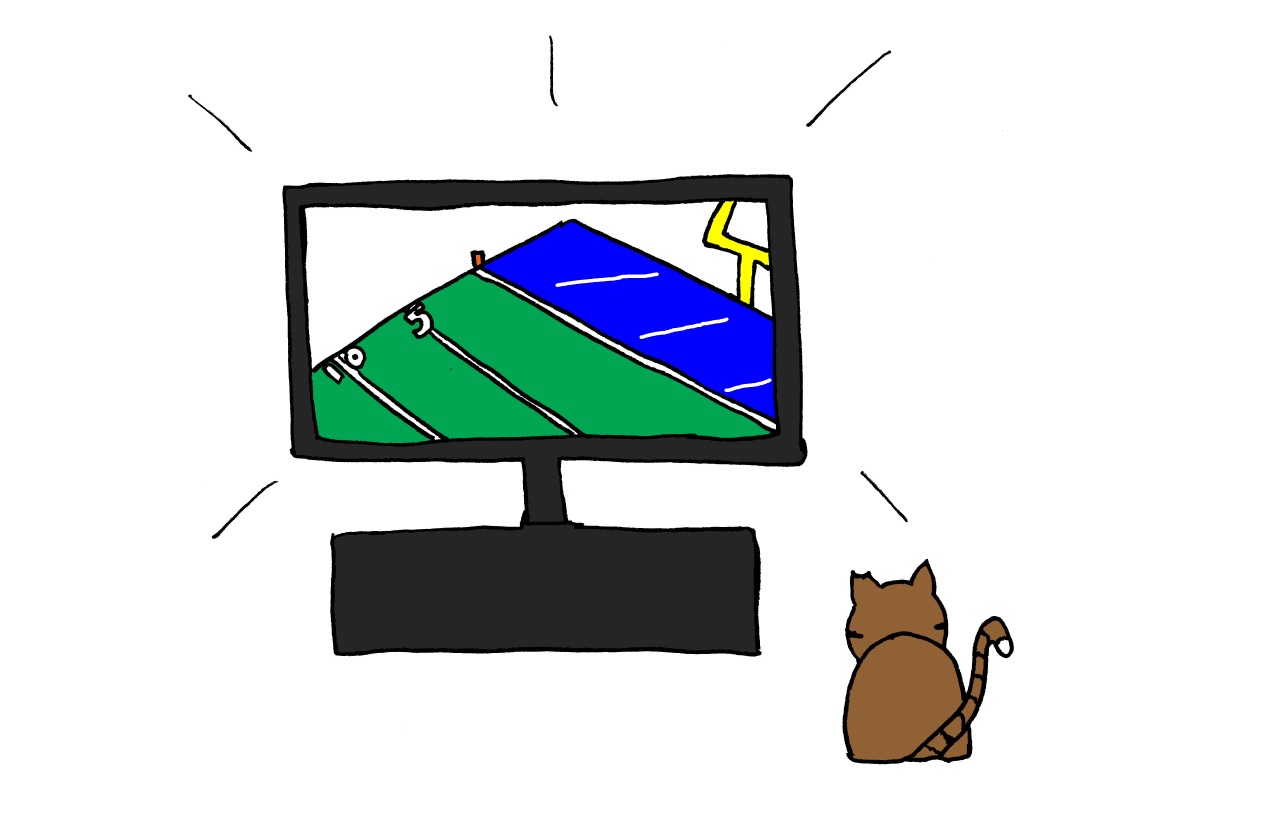 The big game is here. The human's call this event the "super bowl" and no it's not a big bowl of yummy treats. It's some sporting even where giant human mutant freaks chase and pounce on one another and randomly get points or something.
Claws are illegal I believe.
Many other humans may come over to watch this pounce fest on the talking light box. They'll bring lots of food and get super loud.
Here is my guide to help you fellow cats survive the big game.
1. Lots of humans will now enter your home, your rightful territory.
As a mighty house lion, you may want to defend your home from this invasion, but it is futile. A lion can take down one or two buffalo no problem… but an entire herd… not so much. Hide under the bed during the initial stampede.
2. An abundance of human food will be displayed as a tribute to you. But it is a test. They will not let you just snack as you please. They want to see your awesome ninja skills.
Use your ninja skills to lick all the tasty dips and meats when the humans are busy blabbing to one another. I purrsonally like to hide under the table and blindly swipe things with my paw onto the floor. Gotta be quick and munch up those fallen forbidden treats before the humans snatch them away. It's a strange ritual but as we all know humans are strange creatures.
3. Once the humans start watching this super bowl (again – not a bowl of food), they will all gather on your furniture and sit for hours.
That means there's a lot of laps to curl up on. You have free range to walk across as many laps as you want, back and forth, back and forth, getting head scratches along the way. Bonus points if you can find the one allergic human and rub all over them.
4. "Halftime" is a point during the game where the human mutant freaks take a break from trying to murder one another and there's a big broadway show or something.
They sing and dance and there are a lot of lights… sometimes lasers. The lasers I believe CAN be caught but you have to be lightning quick. The humans will try their best to remove you from smacking their precious light box… and I happened to catch one once. I swear to Mufasa. I had it trapped beneath my paw… but MY OWN freaking human picked me up before I could claw it to death. It haunts my nightmares every night… the one that got away.
5. The game lasts forever and it will be a whole night affair… so you'll want to find a place to nap and get away from all the noise.
There should be a spare room where the humans all place their coats. This is an absolutely perfect spot to nap on. It'll be dark and quiet. Again, bonus points if you can find the allergic human's coat and rub all over it.
6. At some point, the humans will forget you exist.
Being a cat, it is our responsibility to remind them all that we are the most important things in their lives. Stand in front of the talking light box, preferably at a point where the humans are super focused and you see the points are tied or very close to one another. Now get up there and meow as loudly as possible. Walk back and forth in front of the talking light box and plop your fur butt right in the center. The humans will be reminded of your awesomeness and will come rushing towards you.
7. If the game is going on too long, and you just want the herd to leave your territory, the talking light box usually has thin black tail connected to the wall.
If you smack its tail from the wall, the talking light box dies. To permanently kill it, chew and claw the tail into pieces. The super bowl has officially ended.
All in all, if you follow this little guide, you should survive the super bowl no problem.
-iizcat
LIKE US!
Comments
comments powered by

Disqus
LIKE US ON FACEBOOK!