Baltimore woman spends $19,000 on her senior cat's kidney transplant
Betsy Boyd, a University of Baltimore professor, spent $19,000 on her 17-year-old cat's kidney transplant.
And it was worth every penny.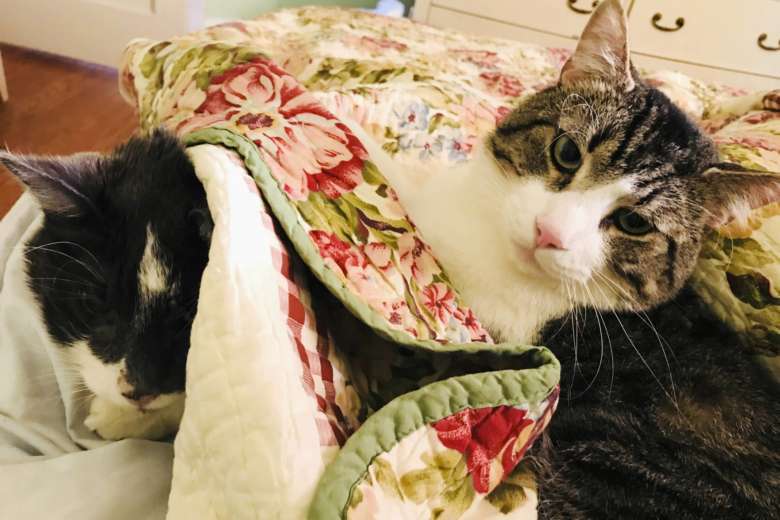 This November 2017 photo provided by Betsy Boyd shows Stanley, left, recovering in Baltimore following his $19,000 kidney transplant alongside his kidney donor, Jay. Both cats are thriving post-surgery. (Betsy Boyd via AP)
As a condition of the expensive surgery, she also adopted the kidney donor, a 2-year-old tabby named Jay, so she saved two lives for the price of one. Both cats are thriving post-surgery — but if Stanley, her senior cat and recipient of the new kidney, were tragically to die tomorrow, Boyd said she would have no regrets.
"He's on immunosuppressant drugs, so he could get an infection," she said. "Anything could happen. If Stan did pass away sooner rather than later, I'd know I had done what I could for him. We've already had a few really good weeks. He's really happy, and that alone is worth the price."
Boyd isn't well off and that $19,000 bill hit her hard, but if she had to do it again, she would.
"I'm smart with money," Boyd, 44, said. "I'm very frugal. I drive a used car and wear clothing from consignment stores, and I have no debt at all. The message I'd like to get across is that if you save your money carefully, you can spend $19,000 on something that moves you."
"I love all my cats, but Stanley is the only one who acts like a human being trapped in a cat's body. He's so vocal and communicative. He maintains eye contact better than any cat I've ever known. When I'm at work, he waits at the window or front door for me to come home, just like a dog."
Boyd intially received some push back from her friends and her vets. Operating on such an old cat has its risks and nobody wanted poor Stanley to suffer, obviously including Boyd. But there was something about Stanley, something about him that told Boyd that he really wanted to live.
Besides his failing kidneys, Stanley was in tip top shape. He was a very healthy cat and was never deterred by his check ups and appointments.
"If he had seemed weak or frightened, I wouldn't have pursued this," Boyd said. "But, he never seemed daunted by all the vet visits, and there was something about his purr. I could feel his spirit really strongly."
Both cats made it through the Nov. 28 surgery, and it wasn't long before Stanley was showing renewed vigor. After his mandated one-month confinement to a dog crate had ended, he returned happily to his old routines, which include walks alongside Boyd at the end of a purple leash.
"Knowing Stanley as I do," she said, "I think he's one of those cats who could make it to age 25."
Stanley and Jay are living very happy lives with their caring mother. We hope to see Stanley living to 30!
Would you spend that much money on your fur friend?
Share and let us know!
via WTOP
LIKE US!
Comments
comments powered by

Disqus
LIKE US ON FACEBOOK!