Animal shelters across the U.S. are teaching cats how to high five to make them more adoptable
Last year, Galaxy launched Cat Pawsitive, a program that encourages animal shelters to teach cats how to do tricks, like giving high-fives, to make them more attractive for adoption.
The idea is that teaching a cat a simple trick will demonstrates to a prospective owner that it can listen to instructions and connect with others.
This also is very beneficial to the cat. Not only does the act make them more adoptable, but it can make shy cats open up and aggressive cats play nicer. Learning a trick can help cats destress and be a welcome distraction in what can be a very stressful place.
"When they arrive in a shelter, they may have lost the only family they've ever known, or they may have come from a difficult life as a stray on the street," Christie Rogero, program manager for Cat Pawsitive, tells Mother Nature Network.
"We help those cats to feel more confident, to feel safe interacting with new people, to even spend more time at the front of their cages actively soliciting attention than hiding in the corner with their face to the wall."
"They get the kind of enrichment that cats need to be themselves and show their true personalities to potential adopters. This helps them to make connections and to get adopted more quickly."
Galaxy has decided to have a contest for National High Five Day (yes, that's a thing) on Thursday by inviting animal shelters and pet owners to post online photos and videos of cats giving high fives, using the hashtag #CatPawsitive and the tags @TheJacksonGalaxyProject and @HaloPets.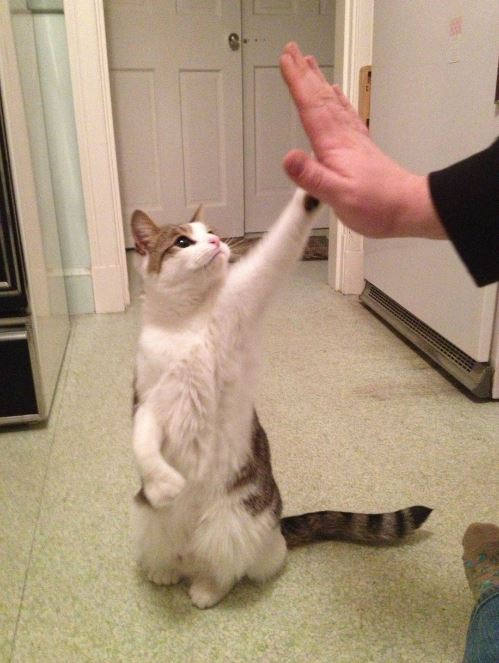 After Thursday, Galaxy will judge them, and five finalists will receive cash and prizes for the animal shelter or rescue of their choice. Grand prize is a $5,000 cash grant and 10,000 bowls of Halo pet food. More info is at felinehighfive.com.
Share the cute!
Related Story: Local man creates hilarious likes and dislikes for shelter cats to help them get adopted
via PostBulletin
LIKE US!
Comments
comments powered by

Disqus
LIKE US ON FACEBOOK!