"Are You Going To Eat That?" review
We had a chance to get an early copy of Jimmy Craig's new book "Are You Gonna Eat That?" and it's a 10 out of 10. Jimmy is the author of the famous "They Can Talk" comics that brings life to the animal world with hilarious commentary.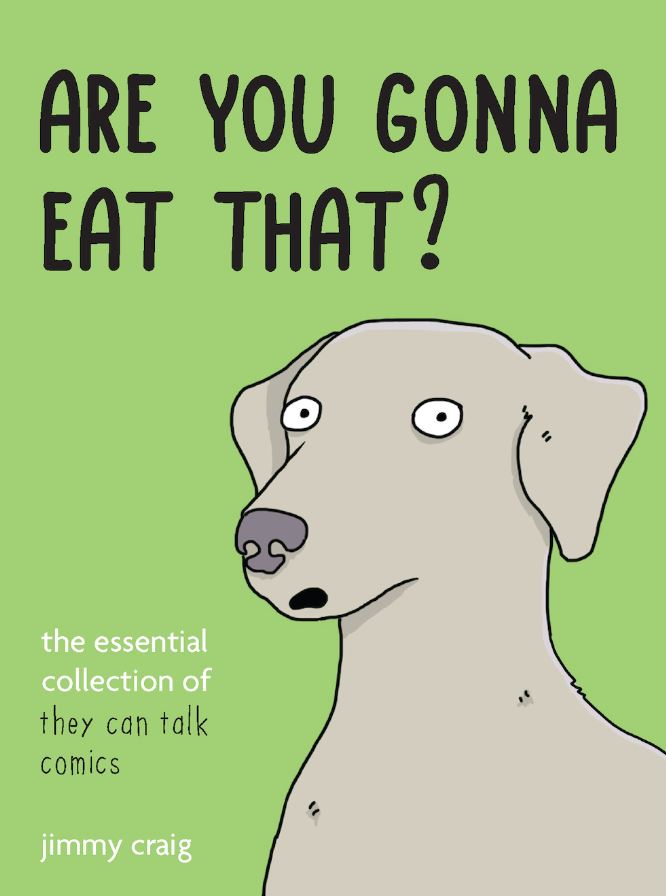 "Do you know what your dog, cat, and neighborhood squirrels are saying behind your back? The truth comes out in this fully updated collection of comics from the viral hit THEY CAN TALK.
Jimmy Craig, humor writer and artist behind the popular webcomic series "They Can Talk," offers more than 100+ hilarious animal comics in this comprehensive collection imagining what it would be like if we had VIP access to the lives of our animal friends" – Ulyssespress.com.
We seriously wholeheartedly enjoyed this new book. If you need a laugh, this book is something you can keep coming back to whenever you need it.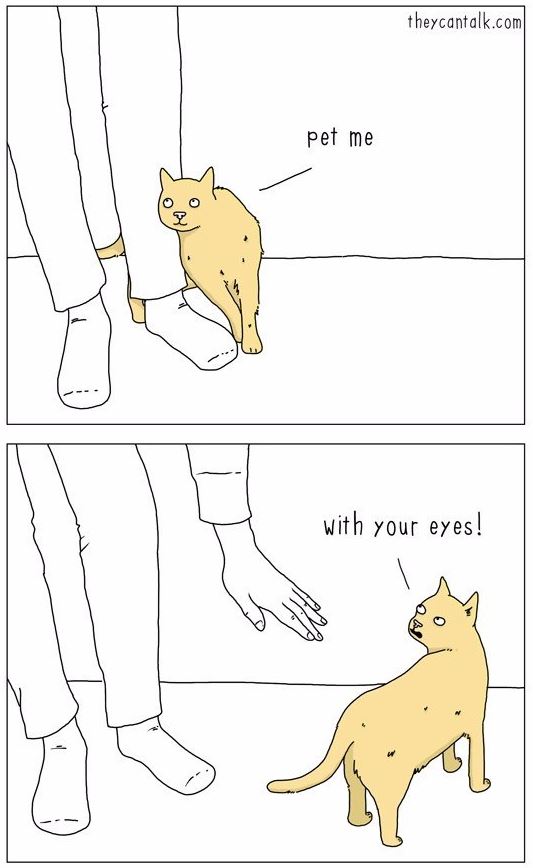 Below we were lucky enough to have Jimmy answer some very important interview questions, such as if he would rather ride an elephant or giraffe to work. We also have a little video review thanks to Minnie and Dany showing some real life adaptations of Jimmy's comics.
1. How long have you been drawing comics? Do you remember your first comic? Do you still have it?
In third grade I made a comic strip about two dogs. For some reason it always involved them peeing on fire hydrants. I don't have any of them saved, but I can still draw them from memory. Much later, in college I started a webcomic with some friends that we ran for a couple of years. I started They Can Talk in 2015 and have kept it going since!
2. If you could be any animal in one of your comics, what would you be? And why is it a cat?
Cats definitely live a life of luxury, at least my cats do, but I'd have to choose some kind of bird--I mean, flight is the superpower everyone wants, right?
3. Do you have a favorite/favorites of your comics? (There are a few that my wife and I jokingly say in real life like the dog screaming "stay calm!" and of course "pet me… with your eyes!")
The first one that comes to mind is the one of a cat saying, "remember when you stood in that exact spot and gave me a treat?" .... "i do." It just really succinctly portrays my cats.
4. What is your proudest professional achievement?
I love books and bookstores, so having a printed collection is really a dream come true. I also had the opportunity to do a collaboration with Nicholas Gurewitch (Perry Bible Fellowship Comics). His comics were a huge inspiration to me and it was a surreal moment to be a fan of a series then be able to actually contribute to it.
5. What tools do you use for your comics? Paper, ipad/procreate?
When I'm on-the-go, I take notes on my phone, but every single comic always starts as a sketch in a sketchbook. I fill about two sketchbooks a year--but to be fair, my sketchbooks also function as a planner for me and sometimes include grocery lists next to comic ideas. I use a Wacom tablet and Photoshop to create the digital versions
6. What advice would you give your younger self about your comic journey?
Don't let the fear of making something bad keep you from starting. Sometimes I wish I had started earlier, but thankfully it ended up working out.
7. Can you share your journey thus far in a summary (comics to published books!) and the steps you took?
They Can Talk started as a very small side project, just a creative outlet that I committed to doing once a week. It grew pretty quickly, so it was easy to stay motivated and on schedule in the early days. As I continued producing the comic, it led to more and more opportunities. Having a book was always the ultimate goal, but I could never have predicted the different doors the comic has opened.
8. Favorite comic artists past and present?
Like most cartoonists, I grew up reading Calvin and Hobbes and The Far Side. Both are absolutely beloved comics for good reason. I also loved Monty and Mother Goose and Grimm. Today, there are so many great comics that I'd feel guilty leaving any out. If you like They Can Talk, False Knees and Poorly Drawn Lines are a good place to start.
9. Where do you see yourself 10 years from now?
I think I will always make comics in some form or another, but I also hope to be more involved in animated feature films and series--writing and directing.
10. Do you have any other passion projects (that you're willing to share of course)
I have so many passion projects that I struggle to figure out which one to focus on. They're all ideas that couldn't be condensed into a comic.
11. If you had to be shipwrecked on a deserted island, but all your human needs—such as food and water—were taken care of, what two items would you want to have with you?
An old school ipod filled with my favorite songs and some nice headphones.
12. Would you rather ride a giraffe to work or an elephant? Why?
A giraffe would make for a more epic entrance, but I think the elephant would be a safer ride. Safety first--even in hypothetical scenarios.
13. Do you think AI is a threat to artists/landscape as we know it?
Yes. At least that's how I feel right now--I fluctuate between full existential crisis to not caring at all depending on what time it is.
14. If you could live in any fictional world, what would it be and why?
The first thing that came to mind was Narnia--a snow covered forest with fauns and talking beavers sounds pretty cool.
LIKE US!
Comments
comments powered by

Disqus
LIKE US ON FACEBOOK!