Meet Xander the cat, who waz a test subject in a lab before earning hiz freedom
Xander iz my hero... but sadly many cats iz not going to get rescued. This all needs to stop, humans.
Please.
Via Huffington Post:
Saved from his former life as a lab test subject, Xander now lives with a loving owner and has found his place among a her small family of rescue cats.
See Xander below take hiz first walks of freedom with another fellow lab cat.

"Xander was legally rescued from a lab in New York, on the condition of anonymity, by Beagle Freedom Project in January 2014," says Rachel Gruen, his new owner. "He lived in a windowless lab in a tiny wire cage for the first three years of his life, and he was done being a test subject."
A lab employee had contacted the Project about Xander, so that he wouldn't be euthanized at the end of his tests.
Gruen happened to see a link to the group's cat rescue page while "browsing around a vegetarian recipe website," she says. "As soon as I clicked it and saw Xander's handsome picture on their page, I fell in love with him and knew that I was meant to be his mom!"
Gruen "wasn't actively looking to add to my cat family" when she saw the former lab cat's adoption listing. But it didn't take long for this this self-described "sane cat lady" to decide to welcome Xander into her home, bringing her family of adopted rescue kitties up to four.
"I just fell in love with him," she says. "I also watched the video on YouTube of his first tentative steps, which made me love him even more."
According to the American Anti-Vivisection Society, there are some 20,000 cats used in research labs across the country every year. It's thought that there are more than 25 million vertebrates used in lab testing in the U.S. each year, according to the Humane Society.
In May, Minnesota became the first state to enact what's called the "Beagle Freedom Bill" -- a law that requires labs receiving tax dollars to make research animals available for adoption, once their experiments are through. That's not the usual fate, though. Most lab animals, including cats, are euthanized at the end of their experiments.
"Beagle Freedom Project has been able to successfully negotiate for the release of a few laboratory cats now and has demonstrated to the research community that these animals can successfully transition to a home environment," the group's director of operations, Kevin Chase, tells The Huffington Post. "We –- and the cats -– have been lucky so far to conduct a few of these rescues. Luck, however, should not be what determines if these laboratory animals get a chance at a life after the labs."
In early March, Xander began his new life, just outside Philadelphia. Gruen says "he has been a delightful, amazing part of our family ever since."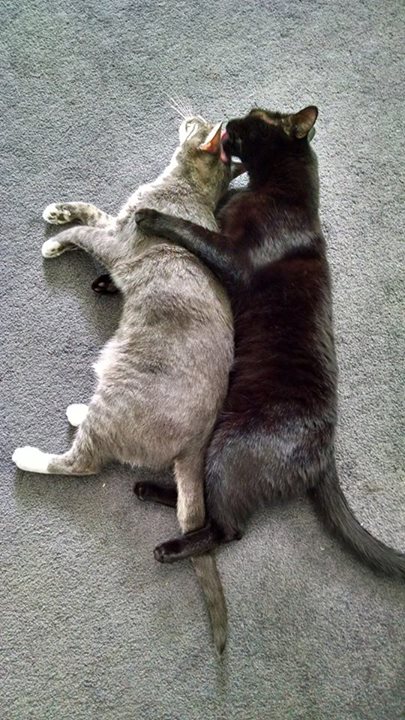 The cat has his quirks, to be sure, some of which may be related to his previous existence. For example, when he first arrived, he "spent a lot of time staring into his water dish and at blank spaces on the wall. He also cocked his head in this adorable but very un-cat-like way whenever I came into the room -- like a puppy putting its head to the side, which I have never seen a cat do before," says Gruen, who suspects that her cat may have been used for some sort of neurological research.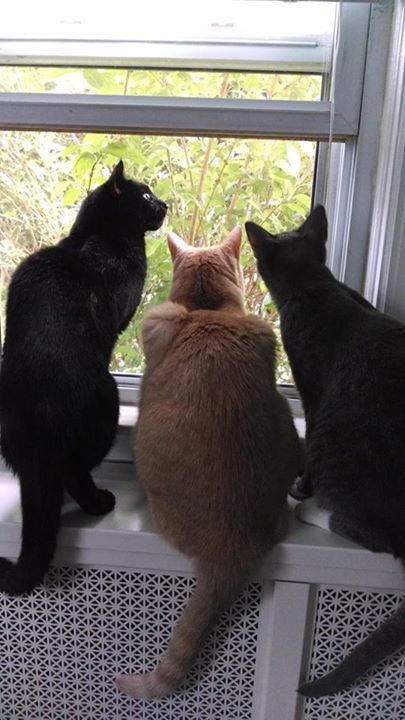 But whatever his past, he's sweet and loving, and now he's family to his feline siblings, with whom he likes a good reciprocal grooming session. Gruen hopes her cat will inspire others to consider the ways they can minimize animal suffering -- for instance, by buying products that aren't tested on animals, or by adopting, fostering and fighting for the animals who are tested on.
"It took this experience and my huge love for Xander for my heart to really be touched and for me to be driven to advocacy in this area," she says. "I feel like I owe it to Xander to share his story and the story of all of his fellow lab animals who are still trapped in their cages."
Find out more about Xander on his Facebook page -- there's a lot of information on there, too, about products made without animal testing. The Beagle Freedom Project website has an application form for people who want to adopt cats rescued from research labs, and lots more information about how to help lab animals
LIKE US!
Comments
comments powered by

Disqus
LIKE US ON FACEBOOK!