"The Unadoptables" is a new comic about adorably unadoptable cats that we think you'll love
A comic about adorably unadoptable cats living at a cat cafe that's owned by a big dude with an inner cat lady.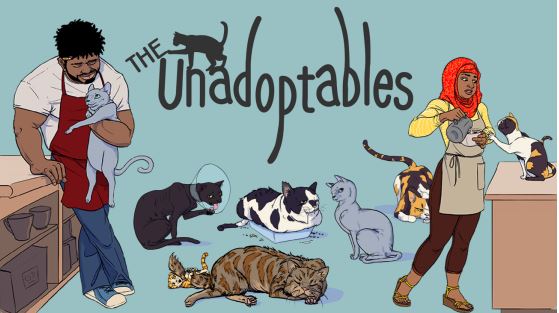 iizcat came across this gem of a comic and we really think you'll love it!
"The unadoptable kitties live in Calico Coffee, a cat cafe/shelter full of well-clawed furniture, yummy pastries, and strong tea and coffee. It's a place where customers can mingle with felines, get their lattes sneezed in, their laps furred on, and their ankles nipped. The cafe's owner, Hank, is a giant of a man who is deeply in touch with his inner cat lady. He loves all cats, but especially the lifers," Margaret Chiavetta shared on their kickstarter page.
Brooks and Margaret, the talented creators, are raising funds on Kickstarter to complete the first issue, "Catnapped!", with stretch goals to cover having the comic translated into three languages as well as to make it accessible to the blind. The first six pages are available on the campaign page, which is now live!
A limited first edition of the comic is being offered as a reward, as well as a t-shirt and cat-covered leggings. The Unadoptables will be free to read online at Tumblr and Tapas.
Let's meet the cats.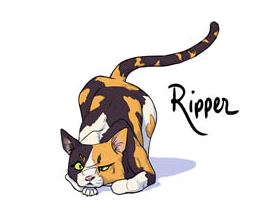 NAME: Ripper @iseeurtoes
CHARACTERISTICS: Domestic short hair, calico, 3-year-old female
ISSUES: A lioness trapped in a house cat's body, Ripper has an insatiable need to hunt. She hunts bugs, hats, toes, earrings, and anything else that moves. She does not play; she goes for the kill. When she's not hunting, she takes her aggressions out on the furniture and curtains.
DESIRES: Ripper would love to be a farm cat with barns full of mice that she can stalk, pounce on, and rend and tear like nature intended. Humans are slow, dull creatures to her, and they get ridiculously upset over a few scratches and a little blood.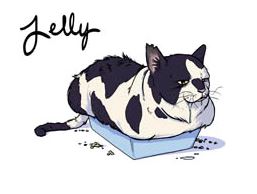 NAME: Jelly @litterbreath
CHARACTERISTICS: Domestic short hair, gray & white bicolor, 5-year-old male
ISSUES: Jelly is, honestly, a mess. He drools, he smells, and his paws are always caked with litter. He's not into grooming, so his fur is matted, and he leaves a dusting of dandruff behind whenever he gets up. He tends to sneeze into customers' coffees. He's also a thief, and loves to steal items like car keys, earbuds, glasses, biscotti, etc., and drop them into water dishes and litter boxes.
DESIRES: Jelly's ideal home has other cats for him to boss around, but two litter boxes for his own personal use. He prefers carpeting to roll around on, and windows covered in paw and snout prints. When it comes to humans, Jelly wants a house full of Jasmines—people who will never turn him down when he wants petting.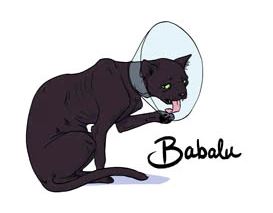 NAME: Babalu @conedependent
CHARACTERISTICS: Hairy sphynx, black, 7-year-old female
ISSUES: Babalu's health isn't just poor, it's destitute. Kidney problems, bladder stones, skin rashes, heart palpitations—she's had it all, and more. She's rarely without a cone or stitches.
DESIRES: Babalu is convinced that her remaining time on Earth can be counted in hours, and every day that she wakes up alive gives her a certain grim satisfaction. So she doesn't think much beyond tomorrow, and sees little use in trying to charm the customers in hopes of being taken home.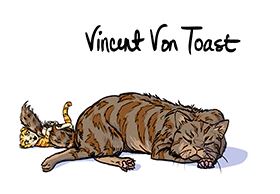 NAME: Vincent von Toast @vincentvontoast
CHARACTERISTICS: Maine Coon, red tabby, 13-year-old male
ISSUES: Face it, not many people want to adopt a 13-year-old cat.
DESIRES: Vincent had a home for many years and only recently arrived at the cafe. He doesn't like to talk about his past. He'd like a new home, but isn't too hopeful. Vincent knows that Marmalade, the kitten with whom he is bonded, will never get adopted if she sticks with him, but she won't leave his side. Still, he encourages her dreams. But Marmalade's optimism about the bonded-pair's future forces Vincent to keep up appearances, and even get a little hopeful from time to time.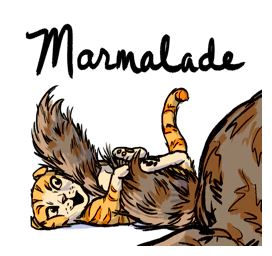 NAME: Marmalade @foldtastic
CHARACTERISTICS: Scottish Fold, ginger tabby, 4-month-old female
ISSUES: With her ginger tabby coat and cute, folded ears, Marmalade is one adorable kitten. She's a charmer, and people love her. But she is absolutely inseparable from Vincent von Toast, and can't be taken home on her own. If you want her, you have to take Vincent. And he's a great cat, too! He's just fairly . . . elderly.
DESIRES: Marmalade wants it all: canned food, naps in sunbeams, fun people to play with. It's the good life for her, and she's going to get it any way she can. But not without Vincent.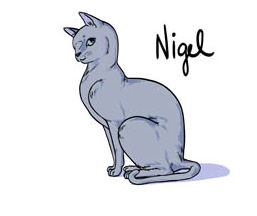 NAME: Nigel @lapsR4naps
CHARACTERISTICS: Russian Blue, silver-gray, 4-year-old male
ISSUES: None. Seriously, Nigel is perfect. He's sweet, affectionate, friendly, clean and in great health. If you're looking for a terrific cat to take home, Nigel's the one. And many people do take him home. He's been adopted countless times. And every time, the very next day, his new people bring him back and flee the cafe without saying a word. No one knows why.
DESIRES: Nigel wants to keep his secrets safe. We suspect he will do anything necessary to do just that.
Oh, and the humans are important too. ;)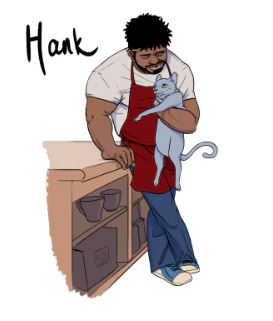 NAME: Hank
OCCUPATION: Owner of cat cafe, Calico Coffee
PAST OCCUPATIONS: Postdoc ethologist at Seaport City University
Hank is a giant of a man who is deeply in touch with his inner cat lady. He loves all cats, but especially the lifers. He's a bit cat-like himself: independent and indifferent to people in general, but he conceals a whole lot of personality. It's hard to get much of a reaction out of Hank, but push the right button and you'll get the equivalent of a tail flick.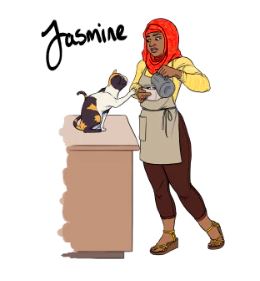 NAME: Jasmine
OCCUPATION: Barista at Calico Coffee
PAST OCCUPATIONS: Library assistant, Humane Society volunteer
Jasmine (Yasmeen), a 19-year-old college student, loves loves loves cats! She just started working at Calico Coffee. Hank hired her right away after she gushed for twenty minutes straight about how much she loves cats. Jasmine has a strong need for every cat to love her back, making her relationship with Ripper a bit one sided. Jelly, the resident gross cat, knows that Jasmine is a sure thing when it comes to cuddles. She's pretty good about keeping extra clean aprons around as well as plenty of hand sanitizer.
We're already sold. This looks adorable!
You can visit their Kickstarter page for updates, a sneak peek at their comic, and rewards for pledges! Go check it out and let us know what you think!
Related Story: 'Breaking Cat News' debuts in E-N and 100 other newspapers today
LIKE US!
Comments
comments powered by

Disqus
LIKE US ON FACEBOOK!